Jeremy Kyle confronts crew with sex question on live TV and it's awkward AF
Publish Date

Thursday, 19 January 2017, 2:52PM
The Jeremy Kyle Show always leaves us laughing (and feeling pretty good about our own lives). But on Jeremy's latest show he did something we've never seen before.
After one of Jeremy's guests admitted he had slept with 11 women and his ex-partner expressed that number was too high for her liking, the talk-show host turned the cameras to his crew and decided to ask THEM how many sexual partners they have had.
That was when it got MEGA awkward. Jezza's first victim was security guard Steve, and he wasn't having a bar of it. Refusing to answer the question, he attempted to slowly walk away saying he didn't want to share it on television. Once Jeremy realised he wasn't getting an answer, he moved onto crew member Rich, who admitted 11 was a 'good figure' while trying to hide behind his blushing face.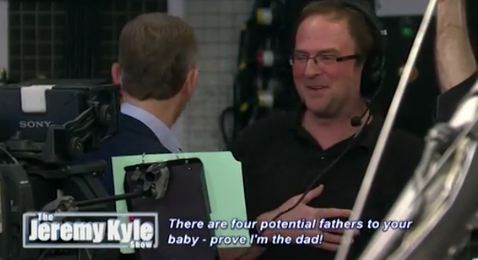 Poor old Jono didn't want to answer either, admitting his Mum was watching HAHA. Our favourite answer came from the final crew member who turned straight back around and asked Jeremy "How many have you slept with?"
That's when Jezza shut the f**k up.
Twitter users were also quick to admit they'd be feeling awkward AF too:
Jezzer quizzing the crew about how many women they've slept with was genuinely quite funny!! #jeremykyle

— mick kenny (@teammick) January 18, 2017
I love when #JeremyKyle chats to his camera men and floor team. They're all so amusing.

— Cinnamøn (@Cinister09) January 18, 2017
I would hate to be on Jeremy's staff right now 😂😂 poor Steve #jeremykyle

— Leanne M 🦄 (@leanne_x) January 18, 2017
Omfg Jeremy Kyle is killing me this morning 😂😂😂

— ✨Shannon Poolton ✨ (@SPoolton) January 18, 2017
Poor Steve..#JeremyKyle

— David Wicks (@TheDavidWicks) January 18, 2017
Watch the awkward video above.