Internet falls in love with girl after honest "ugly" Tinder profile pics
Publish Date

Tuesday, 7 February 2017, 11:51AM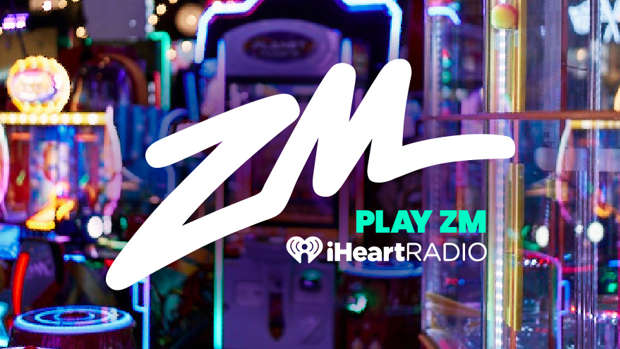 Tinder can be a trainwreck at the best of times...
That's why this epic Tinder profile is going viral.
Often photos are a struggle. There's an endless supply of what are obviously the best photo of the person that's ever been taken in their life mixed with group shots of friends when you're like 'who the eff is the actual person tho!?'
Well, 19-year-old Tinder user Zoe has nailed it. She bloody tells it like it is. 
Her bio reads: "My photos get uglier if you keep scrolling."
Then, if you scroll right, these are her photos in order: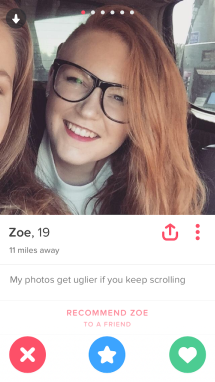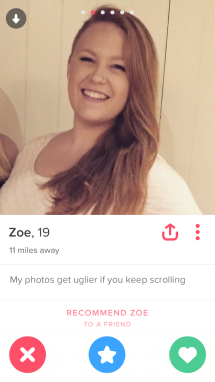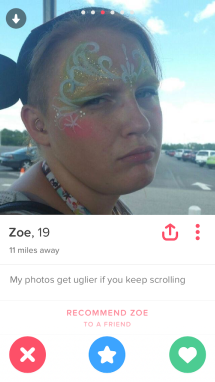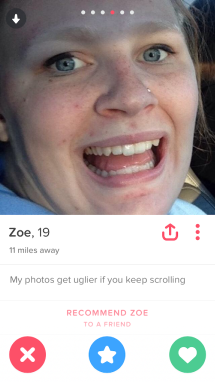 The person who uploaded the images to Imgur captioned the post "Swiped right for humour".
The post has since captured hearts across the internet, with people commenting everything from "pretty girls with comedy do it for me" to "A sense of humour can be a really attractive quality".
One responded exclaiming: "DATE HER NOW! DONT LET THE ONE WITH AN ACTUAL PERSONALITY GET AWAY!"
*SECRET SOUND CLUE*