ZM web girl Trin: I wore no makeup to work for a week and this is what happened...
Publish Date

Friday, 9 March 2018, 8:20AM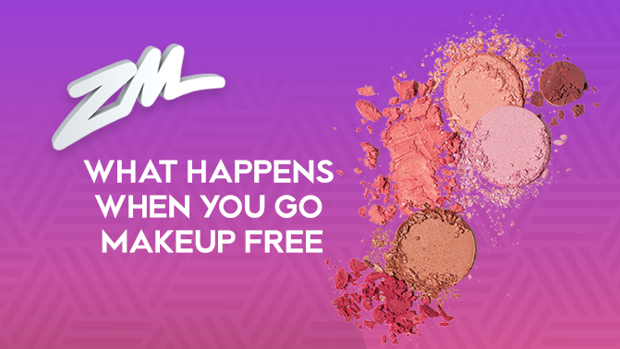 I wouldn't say I'm a high maintenance girl, but being someone who's pretty much always had problem skin, I do depend on makeup a fair bit. 
So to challenge the status norms, my self-confidence and to create some interesting content for zmonline, I decided to go sans-free makeup for a week... and this is what happened:
Sidenote: only one ZM colleague knew about the makeup-free week so that I could get honest reactions from my co-workers. 
DAY ONE l MONDAY
I don't actually wear that much makeup to work as it is; I wear foundation, concealer, powder, eyebrow powder and mascara. It only takes me five minutes to slap it all on in the morn, but even five more minutes of sleep is precious, so that was delightful for my Monday morn. 

My five everyday makeup must-haves: (L-R) MAC Studio Fix powder, Natio brow kit, Nars Radiant Creamy concealer, MAC Haute & Naughty Lash mascara, MAC Studio Waterweight foundation


I walked into the office expecting gasps from the co-workers, the "are you sick?" comments or even just some staring but got nothing. 
As there were no obvious reactions it began to get easy to forget that I wasn't wearing a scrap of makeup. 
The only tinges of self-consciousness were felt when I accidentally saw my reflection in the bathroom mirror and when I had to leave the work building for lunch. 
DAY TWO l TUESDAY
It's got to get worse before it gets better, apparently. Today I woke up with two beautiful pimples on my chin that both had lovely whiteheads. Oh joy.
With no concealer to cover those bad boys, I had quite the day of feeling very self-conscious.
There was a birthday within the ZM team so we all ventured out for lunch.
Unfortunately, I got sat opposite a music rep that I don't know very well and spent the whole lunch trying to cover my pimples by casually resting my chin in my hand.
I actually felt so uncomfortable that as soon as I ate I made my excuses to head back to work.
DAY THREE & FOUR l WEDNESDAY + THURSDAY 
By day three and four I was getting used to the idea of not wearing makeup, but still wasn't comfortable with how I felt without it. 
Whilst buying lunch I would worry that the person serving me would be grossed out by my pimples. 
DAY FIVE l FRIDAY (LAST DAY WOOHOO!)
I'm not going to lie, it was a relief to be on my last day of going sans makeup. 
Today I announced to the ZM team that I hadn't been wearing make up all week and guess what... they hadn't even noticed. 
So that may make you think "oh if they didn't notice then you don't need makeup", right?
Well, I am actually going to return to wearing makeup to work every day. 
Why? Because I don't wear makeup for anyone else, I wear it to feel good about myself. And whether I like it or not, I just feel better wearing makeup. 
When it's your face, it's your choice. So makeup or not, you do you!