ZM Explains... How to make a Will!
Publish Date

Monday, 19 September 2022, 2:06PM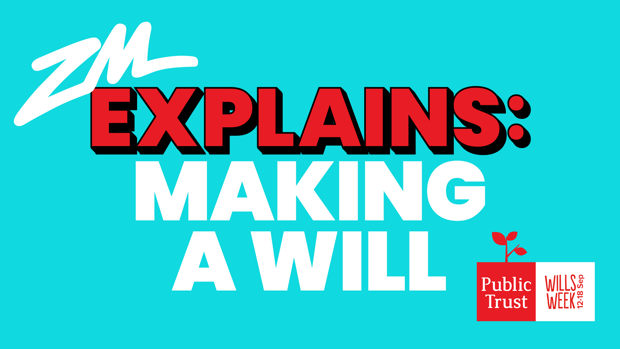 We've teamed up with Public Trust to answer everything you need to know about wills!
A will is a legal document that is uniquely yours, it sets out your wishes, it names a person (executor) who will carry out your wishes and it gives specific directions. 
It's actually super easy to create your will online with Public Trust, it can be done in as little as 20 minutes, and a basic will starts from $69! 
 
Even if you already have a will, it's a good idea to keep it updated when life changes. You might have moved house, received an inheritance or entered into a new relationship. It's about ensuring your legacy is true to you and what you hold dear.
 
Georgia caught up with Public Trust to answer all your questions around wills...

1. I don't have anything of value to pass on/protect?
Everyone has something worth safeguarding. For example, if you're over 18 and have assets in one institution like Kiwisaver, bank account or shares worth over $15,000 they are required to go through a legal process. Perhaps there's something more sentimental worth protecting like an heirloom or photo album? 
 
2. I don't think a will is relevant for me right now… what happens if I don't have a will?
Legally speaking, it's called dying intestate. This means everything you own will be divided up according to the law and not your wishes. 
 
The people you care about most may not be looked after, and it could take a long time and cost a lot of money to resolve matters. This could cause extra distress for your loved ones, during their time of grief. Having a will gives your family and friends peace of mind your estate will be divided according to your wishes during the grieving process.
 
 
3. What are my options for ensuring my kids are looked after?
Custody will remain with any parent who is still alive. However, if you need someone to advise on important life decisions for your children, you can name a testamentary guardian who can help look after their best interests. This might relate to education or staying in touch with family members. Testamentary guardians can also apply for full custody in the absence of a fit parent.
 
4. I don't have enough time and it's too expensive.
Our online platform allows you to create your will from the comfort of your own home. This means you can go at your own pace, look up information as you need it, and talk with your loved ones throughout the process. If you need any assistance, our customer support team is just a phone call or online chat away to answer any questions and provide guidance or technical assistance. 
The cost of writing a will depends on the complexity of your situation. Not to worry though – at Public Trust, we have affordable options for all situations starting from $69 for a simple will up to $189 for a more complex will.
 
Once you've created the will online, it will need to be printed, signed and properly witnessed as a hard copy document.
5. Do I have to go through a lawyer, can I do myself?
No, whether you're in NZ or living abroad, Public Trust can assist you with making sure you have the right Will for your needs, and in many cases you can create your Will yourself online at publictrust.co.nz. You will just need to answer a few questions about yourself and your assets, as well as who you want to leave things to after you're gone. If you get stuck, you can chat with one of our digital trustees via Live Chat.
And then you just need two people over 18 to witness you signing the paper copy of your Will – they just need to be independent of the Will so they can't be a family member, beneficiary or relative of anyone named in your Will.
6. When should you start thinking about a will?
Having a will is an important part of being an adult - like having insurance, or KiwiSaver. 
It's especially important if your KiwiSaver holds $15,000 or more, if you have kids, or a house. And once you have a Will, make sure you review it and update it when things change in your life such as a change in your financial situation, a change in your relationship status, definitely if you have gotten married, if you have welcomed a new addition to the family, or maybe you have a special memento you want to leave to someone.
7. Does your spouse automatically inherit everything?
Most people assume that surviving spouses automatically inherit everything. However when someone dies without a will, regardless of their family situation, the distribution of their assets is determined by law - this can be a lengthy, complex and costly process that adds difficulty to an already stressful time.
The law could determine that:
If there is a spouse or partner, but no parents or children: The spouse receives the entire estate.
If there is a spouse or partner and children: Dependent on the value of your estate, some will pass to your spouse, but some will also go to your children.
8. If I don't have a will, will the government keep my KiwiSaver?
That is a myth; your KiwiSaver will be paid to your estate once you pass away. This is a more straightforward process if you have a will in place, the same as any other assets you may have.
If you have at least $15,000 in your KiwiSaver (or other assets), you definitely should get a will put in place. If you die without a will, NZ Law determines who will receive the funds in your estate and this could process could take anywhere between 6 and 24 months.
9. Who upholds the wishes within the will?
Your executor is the person nominated in your will to make sure your wishes are carried out.
They will be responsible for a range of financial and legal tasks which includes applying for Probate, closing bank accounts, paying debts and filing tax returns.
You need to choose someone you trust to carry out this role, but it can be a burden for your loved ones when they are grieving. We do recommend choosing a professional trustee organisation like Public Trust or your lawyer, as they have a team of experts on hand who can help every step of the way.
Take your Radio, Podcasts and Music with you