ZM Explains... All you need to know about apprenticeships!
Publish Date

Wednesday, 27 July 2022, 10:47AM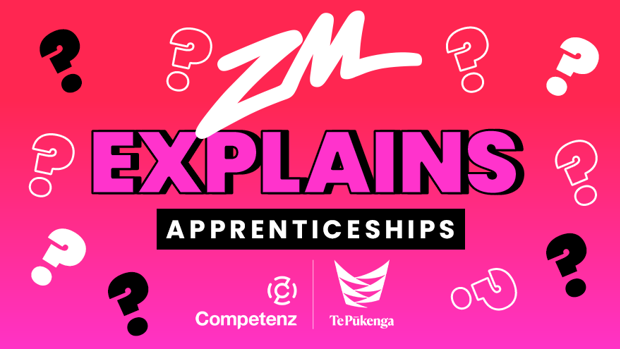 We chatted to Communications Manager Lisa,  from Competenz Te Pukenga to answer all your questions around apprenticeships and work based training!

1) How much can you earn as an apprentice? 
Really, how much you earn is based on your skill level and work ethic and time on the job. At entry level, you'll get the "starting out wage" which is a little less than the minimum wage. As you gain credits in your apprenticeship, your pay should increase in line with your skill level and experience in the work place. It's also currently a very competitive job market, so employers may offer higher wages where there are shortages. Pre-pandemic, economists estimated that Apprentices go on to earn as much as people with a basic undergraduate degree for the first 5 years of their working life (BERL analysis) 

2) Can you go to Uni after an apprenticeship? 
Yes you can, provided you meet the minimum university entrance requirements. You will need to have had  a high standard of achievement through your apprenticeship. Overseas apprenticeship degree programmes are offered and there are initiatives in NZ to create this setup for future apprentices.

 3) Can you go global with an apprenticeship? 

NZQA qualifications are recognised in 38 different countries, typically where people like to go for OEs. They have established processes for recognising qualifications, although it does vary by country. To work overseas you typically have to pass a certification or registration test, which you can readily find through your professional trade body.

 4) Do women do well in apprenticeships? 

Yes there is growing interest and participation from women in apprenticeships across many industries. As innovation continues to advance across all sectors, the introduction of new technology means there will be more and more opportunities for women who are interested in an apprenticeship but who aren't necessarily interested in wearing hi-vis. Employers are also realising the importance of nurturing diverse workplaces. Competenz encourages and supports women to take on apprenticeships and to succeed.

There is a lot of individual one on one support for apprentices unlike going through University for your qualification
5) Is Uni better than an apprenticeship?

It depends on each individual and what learning methodology works best and also where your ambitions lie, it is great that these days students are realising that university is not the only option and if you are better on job and out of the class room, there are other options available.

  When you undertake an apprenticeship, you don't take on debt like you would with university tuition and all of the associated expenses – you earn while you learn – getting you that much closer to your goals in the same timeframe. During an apprenticeship you get a lot of support from your employer and the Competenz team. No trying to track down MIA professors or hours of sitting in class and library studying! When you graduate from an apprenticeship, you have the same opportunities as a university graduate, with the added edge of real-life on job work experience.

 The outcomes are:
- No tertiary debt
- Focused Apprentices understand their associated industry and from working from ground up generally go on to become successful business owners
- Lots of support is offered for apprentices unlike at University from the Employer and training provider
Take your Radio, Podcasts and Music with you