Publish Date

Thursday, 30 May 2019, 5:22PM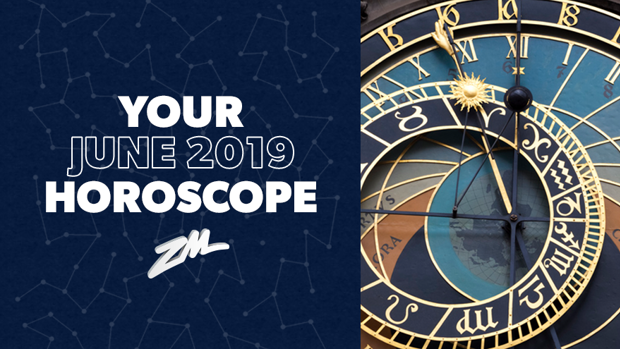 It's hard to believe that we've already made it to June! Honestly, where has the year gone?
But looking forward to this lovely month, there are a few things on the horizon for each of the star signs.

Read below to find out what's in store for your horoscope ...

GEMINI (May 21 - June 20)
Welcome to June, Gemini – it's your time to shine. We're almost halfway through 2019 and now is the perfect time for you to really fire up the engines. June will be a time for you to try something new and throw your cares aside. Have some fun!

CANCER (June 21 - July 22)
Cancer, June is your time to really focus on yourself. 2019 may have felt quite overwhelming for you so far, so do some soul soothing and reset spiritual energy by taking care of your emotional and mental health. This will help you feel more light-hearted and joyful heading into the second half of the year.

LEO (July 23 - August 22)
June will spark your creative side, Leo. You may feel restless to start something fun and new, whether it's a crafty project or even a career change. New opportunities will be heading your way, so make sure you're ready to embrace them with open arms.

VIRGO (August 23 - September 22)
Virgo, you have been working so hard this year, and in June you will start to reap some of the rewards. Some welcome changes will start happening in your life, including moving up in not only your career but in your love relationships. Happiness is coming your way and you deserve it.

LIBRA (September 23 - October 22)
If you've been thinking about learning a new skill, Libra, June is the perfect time for you to start. Push yourself to learn that musical instrument, or join that cooking class. Education will be important for you in this time of the year, so take that leap of faith.

SCORPIO (October 23 - November 21)
You may have been feeling deprived of power recently, Scorpio. Perhaps there is a toxic person in your life, either at work or in your friendship group that is bringing you down. Now is the time for you to assert yourself and push back against the negativity.

SAGITTARIUS (November 22 -  December 21)
Sometimes it can be hard not to get stuck in your head, can't it Sagittarius? If you feel like you have been overthinking everything in 2019 and over analysing your every action, June is the time to resist self-criticism. Learn to be kinder to yourself this month and you feel more fulfilled.

CAPRICORN (December 22 - January 19)
This may be a turbulent time for your love life, Capricorn. You may be set to experience a shake-up in your relationship. However, you will be able to make it through by taking time to reconnect with the one you love. For single Capricorns, it may even mean a new love is coming your way.

AQUARIUS (January 20 - February 18)
This time of year should bring about a sense of optimism for you, Aquarius. Dust off that old project, because now is the time to put your energy into unfinished creative endeavours. You will feel a sense of confidence and purpose this June.

PISCES (February 19 - March 20)
It can sometimes feel like you're battling upstream, Pisces, but just know you are exactly where you are meant to be. This June you will see growth in your personal and financial life and it may come from the place you least expect. So savour the moment and enjoy!

ARIES (March 21 - April 19)
June is a time to treat yourself, Aries. Nurturing yourself physically and mentally will become your top priority. So take time to pamper yourself, whether it is through massage, meditation or a cleansing facial and you will feel your inner positive energy flourish.

TAURUS (April 20 - May 20)
Taurus, you may be starting to feel a little lazy in June. While you love having a sense of comfort and contentedness, be careful not to let that slip into boredom and complacency. Break up the routine by making time for friends and finding new fun activities to take part in.