What you need to know about the Auckland CBD fires
Publish Date

Wednesday, 23 October 2019, 10:10AM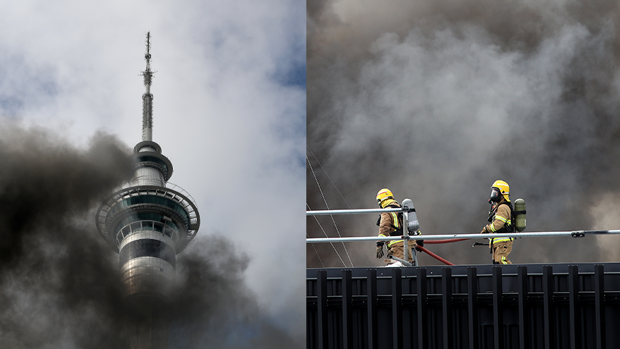 A massive SkyCity inferno continues to rage today, with ground-based firefighters using high-powered hoses to try to quell flames.
TLDR;
* The SkyCity fire continues to burn this morning - with severe gales and rain forecast
* Roads in the CBD are closed, buses have been diverted - some workers are staying home
* A Civil Defence public health alert has been issued for people living and working in the CBD
* One person was injured and at least one firefighter has been hospitalised - believed to have been a medical event
* A worker's blowtorch is believed to have ignited the fire about 1.15pm on Tuesday


THE CAUSE:
The fire - thought to have been ignited by a worker's blowtorch on the roof of the seven-story building about 1.15pm yesterday - shows little sign of abating this morning. Flames and thick smoke continue to pour from the building.
More than 80 firefighters are at the scene, with fire engines lined up Nelson St.
"It's now got to the point where the regional commander has told me that they've abandoned the roof, they think that the roof might collapse so what they might try to do is stop the fire reaching below level five," Mayor Phil Goff told RNZ last night.


EVACUATIONS/ROAD CLOSURES:
People are urged not to come into the city. If you can work from home or from a non-central location this morning, or start work later in the day, were recommended to do so.
Several buildings, including TVNZ have been evacuated, with many stores in and around the area have closed for the safety of staff and the public.
Many central city roads are closed, bus services are disrupted - and some businesses are urging workers to stay away today.
Auckland Transport warned commuters to expect major delays in the central city, with most of Nelson St closed, causing problems for traffic on the Northwestern Motorway.
For all info on disruptions to bus services and route changes, visit the AT Transport website.
THE BUILDING:
SkyCity Convention Centre
The $700m project is well underway and is due to hold its first conference in October next year.
Site: 1.4ha
Floor space: 32,500sq m
Equivalent to 4 rugby fields
33 meeting spaces of various sizes
5 times larger than existing NZ convention space
Able to host events for up to 4000-plus people
NZ's largest theatre, able to seat 2850 people
NZICC designed by Warren and Mahoney, Woods Bagot, Moller Architects
303-room 12-level Horizon Hotel by Warren and Mahoney, Moller Architects


Information in this article was first published on the NZ Herald and is republished here with permission.