Tips for self-isolating when you live with flatmates
Publish Date

Friday, 27 March 2020, 3:43PM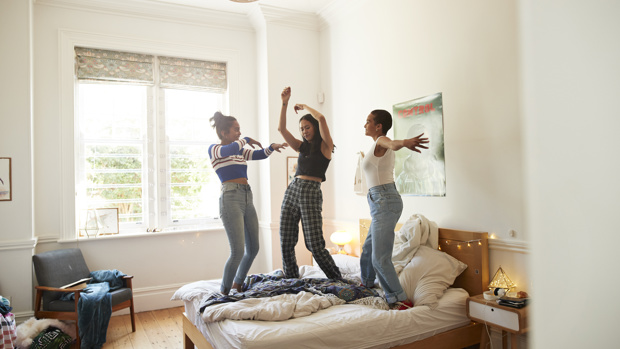 While it may be nice to be all home together now, after awhile the novelty might wear thin.
Read some of our tips of isolating with flatmates, and so you're not screaming at each other by the end of it!
Schedules
Make sure you all have solid routines when it comes to not leaving the house. If you try to follow a similar routine to the one you had pre-lock down, you'll find it easier to get work done, and not procrastinate the whole day!
Cleaning
This is a big one. If you're the type of person who can't handle a messy house when you're trying to work, make sure you set expectations on how you think the flat should be kept clean day-to-day. A clean house is also super important when trying to avoid sickness, so it needs to be done!
It's also worth wiping down surfaces around the house regularly with household disinfectants.
Avoid Sharing
It's safe to say there's been a temporary lift on the universal 'sharing is caring' mantra, at least around the house. Try assigning yourself your own cups, plates and bowls to play it on the safe side. Same with other shared areas of the house, such as a bathroom.
Follow COVID-19 Rules
You may be living together, but you should still be keeping distance from each other and regularly washing your hands. These rules are simple, but will mean the spread of germs is less likely when you're in a flatting situation.
Be Paitent with Eachother
It's a tough time for everyone right now, and whether you're more anxious than usual, or not worried at all about not leaving the house, you never know how someone else is feeling. The reality is that you're probably going to be sharing each other's space far more than usual, so be respectful and remind yourself that we're all going through the same thing.
Have fun!
Come up with ways to still enjoy yourself, and experience things you used to. Whether it's turning on disco lights and setting up a fake club, playing board games together or singing your hearts out in a karaoke sing-off, make sure you still make moments out of the time you have in iso. Plus, there are plenty of ways to keep fit, with group workouts online or daily walks around the neighbourhood!
Or just binge everything on Netflix of course!