Season 4 of NZ's breakout TV series "The COVID-19 1PM Update" is now on IMDb and the reviews are hilarious!
Publish Date

Monday, 23 August 2021, 6:10PM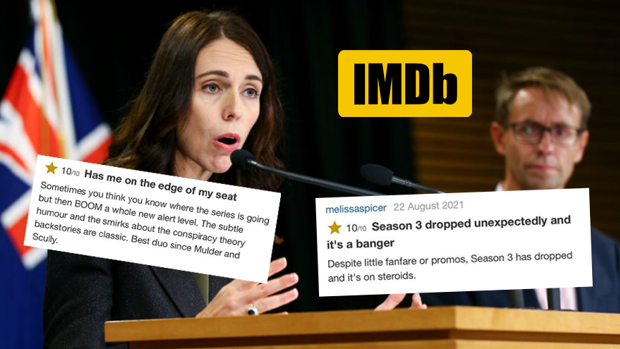 So, the reviews are in for "Season 3" of the COVID-19 Daily 1pm Update on IMDb.
Our favourite 1pm Daily Update soap opera starring Jacinda Ardern and Ashley Bloomfield. 
The reviews left by viewers on Season 4 are impeccably done and you can actually listen to the daily update as a podcast!
Some of them have been posted to the world-famous New Zealand based Instagram page @shityoushouldcareabout. 
Even the show synopsis reads perfectly, detailing the Aotearoa's COVID response from all the way back in 2020, or in Season One as they put it. 
"Set in a dystopian world where autocratic and populist leaders are in charge of the USA, China, UK, Brazil and many other nations.
1pm Daily Update takes place in the imaginary island nation of New Zealand, a utopian society where science, facts, strong leadership and genuine care for its people and environment take precedence over money and big business."
But, it really is the reviews that steal the show. One of them has even compared Ashley Bloomfield to "McDreamy" from Grey's Anatomy, and we actually can see it too! 
"Jacinda may be the main character, but its Deaf Aotearoa Translator Alan Wendt and Public Health Director Ashley Bloomfield who steal the show. They're hot. Move over Brad Pitt and Patrick Whats-his-name!"
Check it all out above! Man, we Kiwi's are crack up. 
Want more? Laugh out louder with Fletch, Vaughan & Megan weekdays from 6AM – Or catch up with their poddy below!
Take your Radio, Podcasts and Music with you