Rewind: The BEST Kiwi beach fashion from the 90s
Publish Date

Friday, 19 January 2018, 3:03PM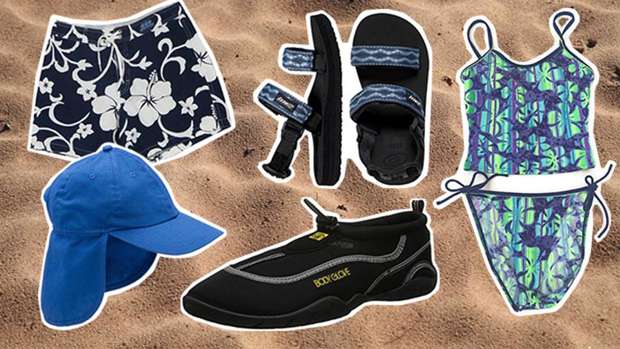 Last week's sunny afternoon spent on your Turkish towel in your high cut bikini and Karen Walker Sadie sunnies will likely seem a distant memory on this sodden grey day.
But today we invite you to paddle your inflatable swan back further than those recent recollections of time well spent in the sunshine.
We're taking you back to an era where hibiscus print was everything, Reef slides were as popular as Havaianas and no outfit was complete without a puka shell necklace.
It was the 90s and if you considered your beachwear game strong, you'll no doubt recall the following items as the height of Kiwi beach fashion.
Aqua shoes
Aqua shoes. Photo / Amazon
Ah, the humble aqua shoe. A futuristic look in their day, these slick little slippers really could take you anywhere and cut some serious time off of your triathlon PB.
Available in a variety of colours, you felt invincible when tackling the jagged rocks at your local beach.
Shell necklaces
No outfit was complete without a good set of puka shells. And they were the perfect accompaniment to the sweet, sweet braids you had done in Rarotonga.
Hibiscus print everything
Hibiscus print board shorts. Photo / Ebay
Before there was banana-leaf-printed everything there was the hibiscus. Easily the coolest summer trend of the 90s, the beachy floral adorned everything, from board shorts to skirts, bikinis and bucket hats.
Zinc
Zinc sticks. Photo / Amazon
While these days you'd likely look sideways at someone who's smeared a bright pink paste across their dial, back in the day a zinc stick, along with your Walkman, was a beach bag essential.
Clear visors
The clear visor provided little to no sun protection, but boy oh boy was it cool.
In retrospect, you looked like a poker dealer from the 70s, but at the time your visor was the next coolest thing to the hat worn by Props Boy on What Now.
Props Boy. Photo / What Now
Tankini
Floral tankini. Photo / Etsy
The tankini was the perfect choice to set off a raging pair of knee-length board shorts.
Your parents let you get one because it was a modest swimwear choice and you rocked it whenever and wherever possible - including with your flared jeans at the mall.
Bucket hats
Let's be honest, no one looks cool in a bucket hat. But, as Kim K recently quipped: "Bucket hats are coming back, and they disturb me."
Ever frumpy, they messed up your hair and you could bet as soon as you left the school gates, they were stuffed into the bottom of your bag.
Fast forward 10 years and the lifeless hats with a gaudy full brim have indeed made a very cool come back, with everything from banana leaves to tie-dye patterns emblazoned on them.
Body Glove
 

wetsuits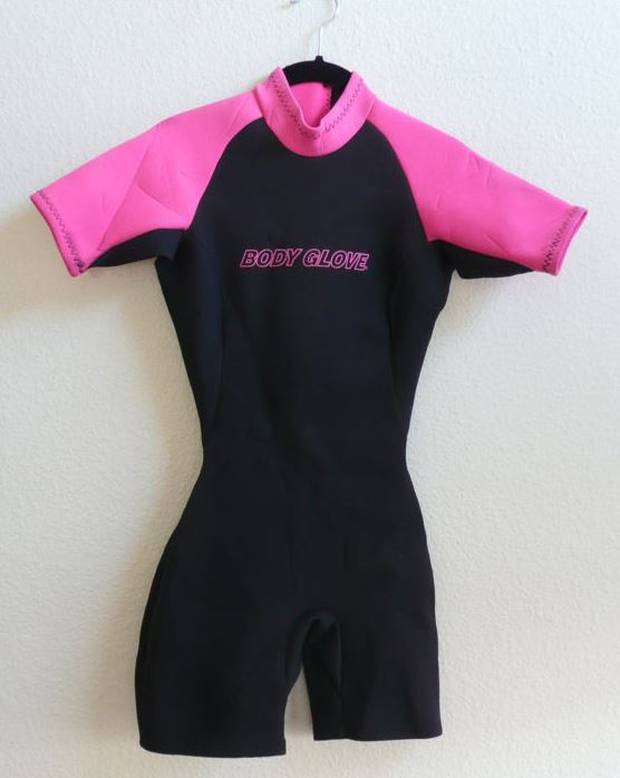 Bodyglove wet suit. Photo / Etsy
A Body Glove wetsuit was a rite of passage for Kiwi kids.
You may have struggled to get in and out of it, but once it was on you felt like a cool surfer kid ready to hang 10 on some gnarly waves!
Flap
 

hats
Flap hat. Photo / Amazon
Flap hats were a sun smart choice for kids growing up in New Zealand. So of course they were what school teachers dished out to anyone who'd forgotten their own hat - no doubt sans flap if they'd been allowed to choose it.
You could either sit in the shade all lunchtime, or slap on a communal flap hat. Obviously, the flap hat won - and you tucked said flap up anyway - because you weren't about to lose your King spot in handball.
Reef slides
When you weren't skipping over oyster shells in your rad rock shoes, you were scuffing about in a pair of Reef slides. 

The surfie answer to Roman sandals, if you wore them with the back strap, you clearly missed the memo on how to lift them to next-level coolness.
Reef shoes. Photo / Pinterest
This article was first published at nzherald.co.nz and was republished here with permission.