Remember Marcel the Shell With Shoes On? He now stars in a full feature movie hitting cinemas!
Publish Date

Wednesday, 20 July 2022, 4:20PM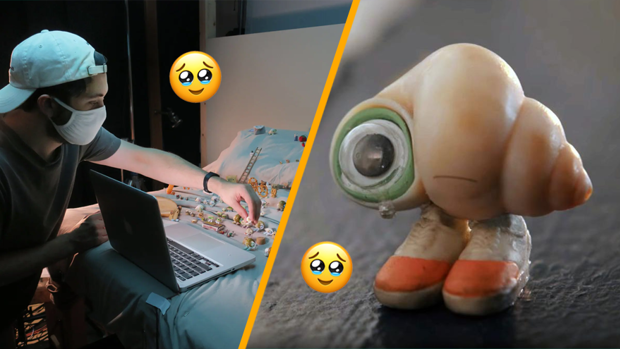 MEMORY UNLOCKED!
Before TikTok and Reels, there were viral clips on YouTube in the early 2010s that sent the internet into a frenzy. Salad Fingers was one, Charlie the Unicorn was another, and then there was... Marcel the Shell With Shoes On.
If you're reading this it's because Marcel still holds a special place in your heart. Created by filmmakers Dean Fleischer Camp and Jenny Slate, they're back. This time with a full feature movie by A24, the studio behind iconic movies such as Moonlight, Lady Bird, Ex Machina, Hereditary and more.
The synopsis of the movie sees Dean play himself, a recently single documentary filmmaker who is staying in an Airbnb where he finds a walking, talking, utterly adorable seashell named Marcel (with shoes on, obviously). New character unlocked: Marcel (voiced by Slate) lives with his Nana Connie and pet ball of lint. Dean decides to make a doco about his interactions with Marcel, and then much like irl, the short films eventually go viral. 
And if the reviews are anything to go by, we are in for a treat. One commenter on YouTube said, "I honestly cannot believe a 2-minute trailer of a stop motion shell with little shoes and jiggly eyes could make me completely bawl my eyes out the way it just did. I am so gonna watch this film."
While another wrote, "I can't believe we're getting a Marcel movie after all these f**king years! It's like a fever dream. Movie of the summer right here!"
And the coolest thing about it is that they don't use CGI. A24 have stuck with stop-motion like that of the original short film, blended with live-action to really bring back that nostalgia we all fell in love with.
There's been no word on if the movie is hitting our shores but once we find a place to watch it we will let you know asap.
It's Marcel's world and we're all just living in it. Watch the trailer below and try not to cry!

Want more? Laugh out louder with Fletch, Vaughan and Hayley weekday mornings from 6am. Listen in for the biggest celebs and guaranteed lols!
Take your Radio, Podcasts and Music with you