Rapper becomes first person to have gold chains surgically implanted into his head as hair
Publish Date

Friday, 10 September 2021, 3:56PM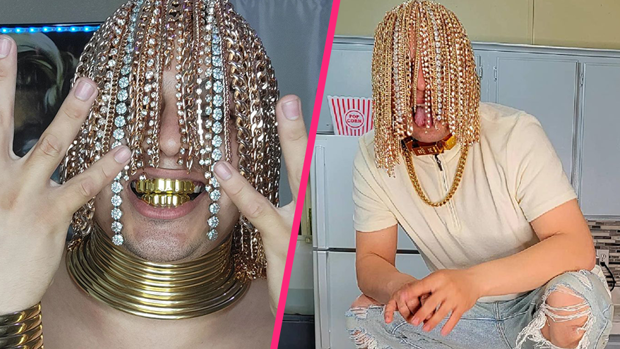 It appears Latino rapper Dan Sur is a fan of Goldilocks...
The rapper who has made somewhat of a name for himself on TikTok (boasting 1.8 million followers) seems to have raised the stakes in the bling competition. 
And we happen to think a large amount of his success has come from the gold chains that he has reportedly had surgically implanted into his head to resemble hair... Yup. 
According to Ladbible, the rapper wanted to look like he had come 'straight out of a jewellery store'.
"The truth is that I wanted to do something different because I see that everyone dyes their hair. I hope not everyone copies me now," he said in one of his videos.
"I have it as a hook that is implanted in my head and that hook has hooks and they are all hooked in my skull, under my skin."
Dan Sur isn't the only person getting bling attached to their bodies.
Lil Uzi Vert went viral earlier this year when he revealed he had spent millions of dollars to acquire a pink diamond that he had implanted into his forehead. 
Whatever the case may be, we wonder if the new hairdo could inspire our very own Fletch and Vaughan? What do you say, fellas? 
Want more? Laugh out louder with Fletch, Vaughan & Megan weekdays from 6AM – Or catch up with their poddy below!
Take your Radio, Podcasts and Music with you