'Pancake Cereal' is taking over the internet and we don't know how to feel
Publish Date

Monday, 11 May 2020, 11:20AM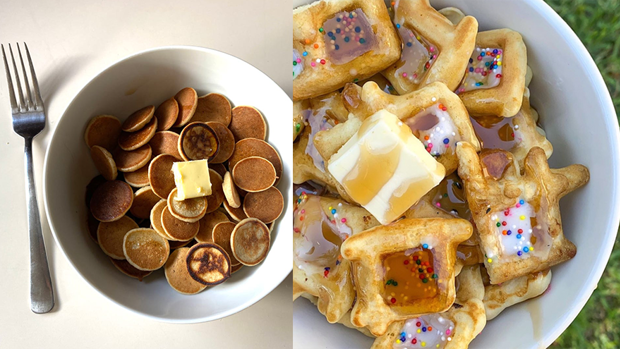 Thanks to the internet, there's a new food trend going around on TikTok and we're just not so sure about it.
We were super on-board when it came to Dalonga Coffee, but Pancake Cereal...?
Bowls of miniature pancakes slathered in syrup have been popping up all over social media, with the #pancakecereal hashtag receiving around 10.6 million views on TikTok!
The recipe is simple- whip up your fave pancake mix, then cook them up in tiny baby pancakes.
The best way to get them small enough, is to use a dropper to place the mixture into the pan to cook.
You can then add the 'cereal' to a bowl and add milk, syrup or whatever you fancy.
One person took the pancake cereal craze to the next level, create a bowl of waffle cereal!
But the one question we have is...wouldn't it get super soggy??
What do you think? Will you be trying it?
Take your Radio, Podcasts and Music with you