Need something new to watch in iso? Here's everything coming to Neon this month!
Publish Date

Wednesday, 1 April 2020, 8:00AM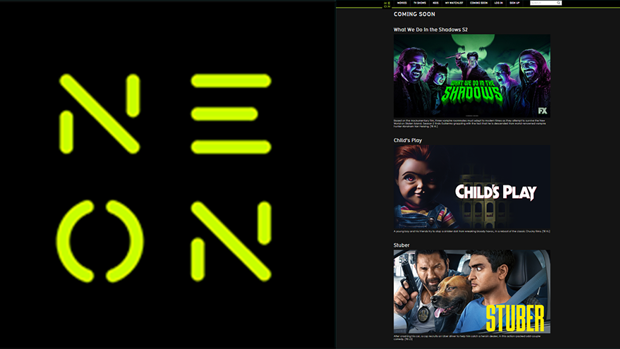 Watched EVERYTHING on Netflix already? Well Neon's got your back with new things to watch!
In April we can get new episodes of the mind-blowingly epic HBO show Westworld, an adorable new rom-com series, Run, a new seasons of What We Do In the Shadows and I Know This Much Is True, starring Mark Ruffalo - twice!
Amazing!
There are also some great flicks to enjoy, including the Downton Abbey movie, Abominable, Shrek, The Great Gatsby, Jumanji and more!
... Enjoy!
April 4
Agatha & The Truth About Murder
The ABC Murders: Season 1
The Pale Horse
April 6
Dino King: Journey to Fire Mountain
All in the Mind
April 8
Enlightened: Season 1 & 2
Child's Play
Oldboy
April 9
Stuber
Happy Feet Two
April 10
The Wrestler
Angels in America: Season 1
April 11
Bored to Death: Season 1 – 3
April 12
Wild Dolphins
After
April 13
Phoenix, Oregon
The Boat that Rocked
April 14
High Maintenance: Season 1 – 4
The Mad Whale
April 15
The Woodstock Bus
47 Ronin
Richard Says Goodbye
Shrek
Shrek 2
April 16
What We Do in the Shadows: Season 2
Mrs America: Season 1
The Great Gatsby
Abominable
Downton Abbey
April 18
Beethoven
Beethoven's 2nd
Never Back Down
April 19
Fixed
April 20
Jumanji
April 21
Getting On: Season 1 – 3
April 22
State of Play
A Dog's Journey
April 23
Eastern Promises
Good Boys
April 24
Vice Principals: Season 1 – 2
Last Vegas
April 26
Pitch Perfect 2
April 27
Penny Dreadful – City of Angels: Season 4
Vida: Season 3
April 28
The Keeper
The Secret Versailles of Marie-Antoinette
April 29
The Corner: Season 1
Palm Beach
April 30
Blinded By the Light
Holy Lands
Whitmer Thomas: The Golden One
Coming in April
Run: Season 1
Insecure: Season 4
I Know This Much is True: Season 1