Lucky fan gets great relationship advice from Harry Styles during his concert
Publish Date

Monday, 27 September 2021, 10:12AM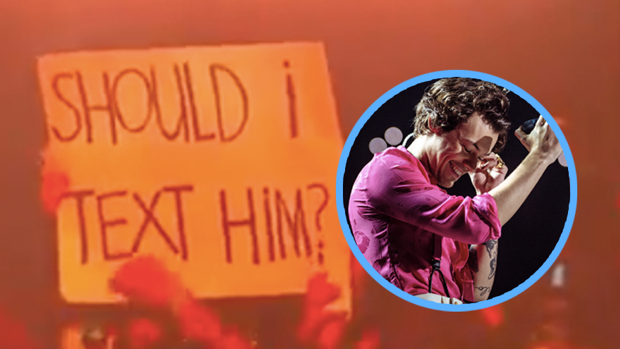 Harry Styles the love doctor? 
A Harry Styles fan got a lot more than she paid for when she attended his Minnesota concert last week! 
The Watermelon Sugar singer spotted a sign in the distance, asking the age-old question - "Should I text him?"
Harry preceded to dig a little deeper into the situation to see if he could offer a solution and  in typical Harry style, he provided grade-A, expert-level advice.
Harry asked, "I have a question: Is he nice to you?" The fans friend loudly yells "No!" and naturally the crowd followed her lead. 
"In my opinion, if you should [text him], this isn't even a question," he said.
"If you're wondering if we're playing games? If you're wondering, should I text him? Should I not text him? Can't text him too soon. And now I'm thinking about double-texting; that's a whole risky business... It's a whole thing."
The pop star even put himself in her position and saying exactly what he'd do.
Harry advised, "My personal opinion is that if there's any sort of games, trash! Trash! Trash! Not for you!"
Look, if you're going to listen to anyone, why not Harry Styles? Check out the epic video above to fall even more in love with Harry. 
Want more? Here's a bit we love from Bree & Clint – unleashed every weekday arvo from 3PM. They're always up to something!