Keep your pooch dry this winter with this genius umbrella leash
Publish Date

Monday, 21 June 2021, 2:45PM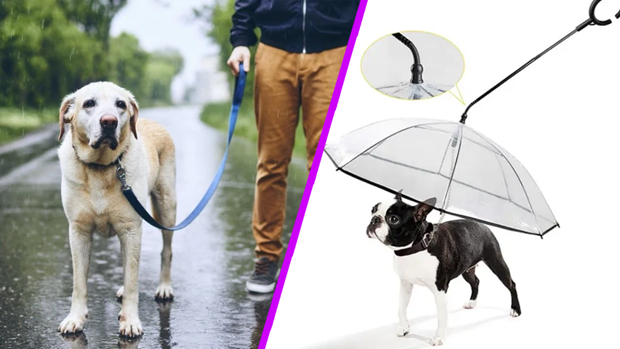 Ok we'll confess, usually our Wish.com ads are waaaay out of whack, but they've actually got it right this time!
Introducing the simple, yet extremely effective 'pet umbrella with leash' that could change your life this winter. 
For as little as $20 plus shipping, you could keep your canine friend 'bone' dry (excuse the pun) this wet season, and shield them from unexpected downpours during walks, which happen all too often. 
The production description reads: "Pet Umbrella is a new item which can protect pets from grit, wind, snow, and rain, specifically designed for small dogs.
"It is fashionable, stylish, concise and easy to handle. With this pet umbrella, pets don't have to wear a raincoat on rainy days. With this, she looks lovely, pretty and elegant."

The pet umbrella comes with a few adjustable features as well as a 13-inch chain that attached your pet to the umbrella itself. 
There are a few warnings though, and Wish have made it very clear that their umbrella is only suitable for smaller dogs. 
Also, the handle and umbrella itself is made of metal, which really doesn't give your pet much room to wander around.

So, if your fluffy friend fits the bill, why not take a punt on this great invention. They'll definitely thank you for it!
PSA: ZM do not take any responsibility for the quality of this product, or whether it even arrives at all. Ta.