It's #MHAW so we've made a list of things to help instantly boost your mood
Publish Date

Friday, 1 October 2021, 12:50PM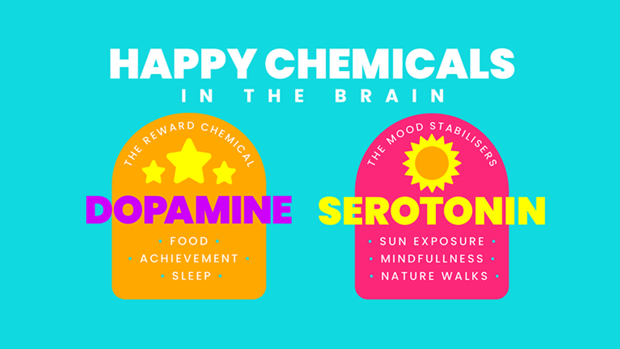 Happy #MentalHealthAwarenessWeek!
There's literally no better time to check in with yourself, reset and re-energise your mind. 
Life isn't all rainbows and unicorns all the time, or as we like to say "champagne and Chanel", but we've come up with a little list of things to do to help improve your state of mind and release those happy chemicals such as dopamine, serotonin, oxytocin and endorphins.
1. Crank up the music
A bit of a given for us music junkies, but there is some science that proves it. Regular studies have shown that listening to upbeat songs can instantly improve your mood.
Very Well Mind reported that "Music can be a source of pleasure and contentment, but there are many other psychological benefits as well. Music can relax the mind, energize the body, and even help people better manage pain." 
And if you need some of the best beats to listen to, we know some people 😉
2. Whip up a culinary masterpiece 
Even if you're not Nigella or Gordon, making a nourishing meal won't only satisfy your tastebuds, but your mind too. 
Not only does it give you a sense of accomplishment after that first bite, eating your delicious (and nutritious) kai will instantly improve your dopamine levels. And, a little sweet treat every now and then never hurt anyone either. 
If you're needing a little inspo, our ZM announcers had a lot of fun with the Tasty Twins at the start of lockdown. They've certainly got you covered. 
3. Go for a walk
Not to toot our own horn, but Aoteroa really is one of the most scenic countries in the world. We're (literally) surrounded by water and for those that are more inland, our mountains are just as breathtaking. 
Physical activity has always been known to improve physical and mental health, and when you've got plenty of pretty things to look at like we do, it's no wonder. 
A study has found that participants who spent time walking in a natural environment reported lower levels of rumination (the process of thinking the same thought).
So if you want to clear your head and feel better, head for the nearest green space, nature park or beach and you're away laughing. Oh, not to mention the boost of serotonin.
4. Focus on your breathing
When we're feeling anxious and stressed out, one thing we can all do is step back, take a break from what we're doing and take a deep breath in and out. 
Try breathing in through your nose and out through your mouth in time with this:
There are also plenty of phone apps around to help with our breathing which are super handy. 
Calm, Headspace and Liberate are three great apps that are all FREE. These apps allow will teach you the basics of mediation, help lower anxiety levels and help you re-centre your mind. 
5. Take time to Kōrero
Simple, easy, and possibly the most fun! There is no better time to catch up with old friends, new friends and family than now. Everyone is feeling the affects of the last year, and we've all slogged through it together. There's topic number one!
A little chat can go a long way – whether it's just checking in with a mate, having a kōrero over some kai or saying hello (at a distance) to a stranger.
Need Help Now?
• Lifeline: 0800 543 354 (available 24/7)
• Need To Talk? Text or call: 1737 (available 24/7)
• Suicide Crisis Helpline: 0508 828 865 (0508 TAUTOKO) (available 24/7)
• Youthline: 0800 376 633
• Kidsline: 0800 543 754 (available 24/7)
• Whatsup: 0800 942 8787 (1pm to 11pm)
• Depression helpline: 0800 111 757 (available 24/7)
• Rainbow Youth: (09) 376 4155
• If it is an emergency and you feel like you or someone else is at risk, call 111.

Want more? Laugh out louder with Fletch, Vaughan & Megan weekdays from 6AM – Or catch up with their poddy below!
Take your Radio, Podcasts and Music with you