Here's what it's actually like to eat like a Kardashian
Publish Date

Wednesday, 6 September 2017, 9:30AM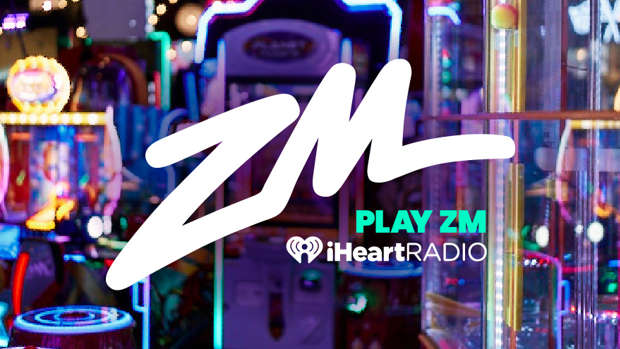 It's the 10th anniversary of Keeping Up With The Kardashians. "OMG no," you say? Bible, yes. So the NZ Herald Lifestyle team has attempted to live like the Kardashians for a week by following tips from their apps. Could we keep up?
KEEPING UP WITH ... KOURTNEY'S DIET
Before trying to dress like Kim around the office or applying copious amounts of makeup a la Kylie, I decided to ease myself into the Kardashian way of life by eating like Kourtney, who employs arguably the toughest diet: She's entirely gluten- and mostly dairy-free.
On KUWTK, Kourtney's often filmed trying different superfoods and strange concoctions, so when it came to following the recipes on her app I thought I was in for a real treat.
Surprisingly, there wasn't a cup of FitTea or a Hair and Nail Gummies "lolly" in sight. Instead, I endured a day of pretty dull eating.
From a smoothie desperate for a spruce up, to a totally unnecessary snack, this Kardashian's "Kuisine" left me seriously underwhelmed.
Here's what it's like to eat like Kourtney for a day:
BREAKFAST: Green Smoothie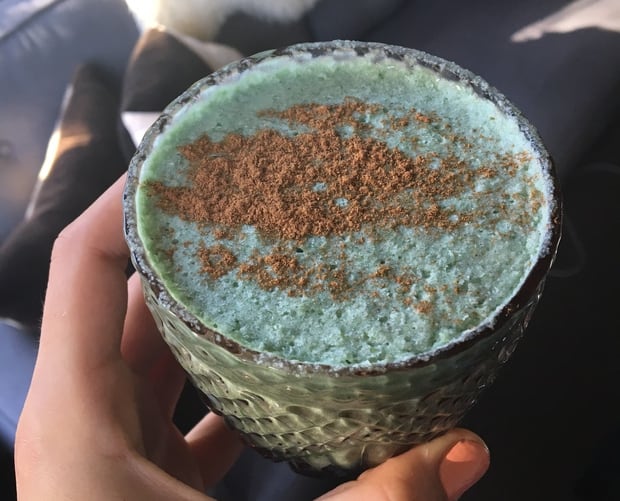 With the help of cinnamon and some dates, this smoothie was made edible.
The smoothie only contained spinach, banana, almond milk and coconut water - not much of a recipe really.
I added two dates to sweeten it up and topped it with cinnamon, but I still wasn't impressed.
LUNCH: Kourtney's Signature Salad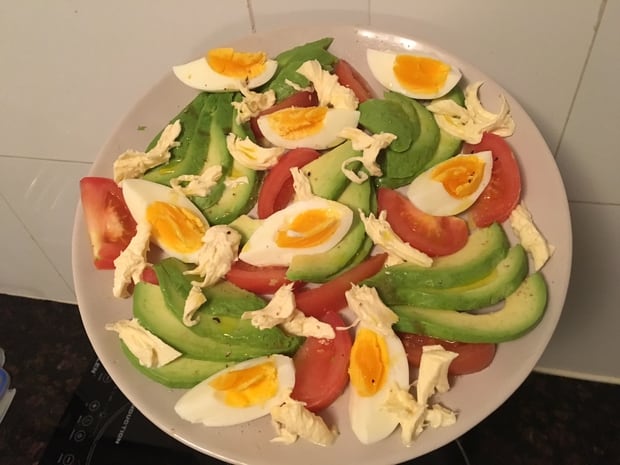 This salad was lacking key, well, salad components: Some greenery or another texture that wasn't rubbery would have done the trick.
Visually it was an appealing salad, don't get me wrong, and I liked that it was super easy to put together. But it fell over in the taste department.
Over on Instagram Kourtney says she makes this everyday. I think this will be my first and only encounter with said salad.
DINNER: Healthy chickpea fritters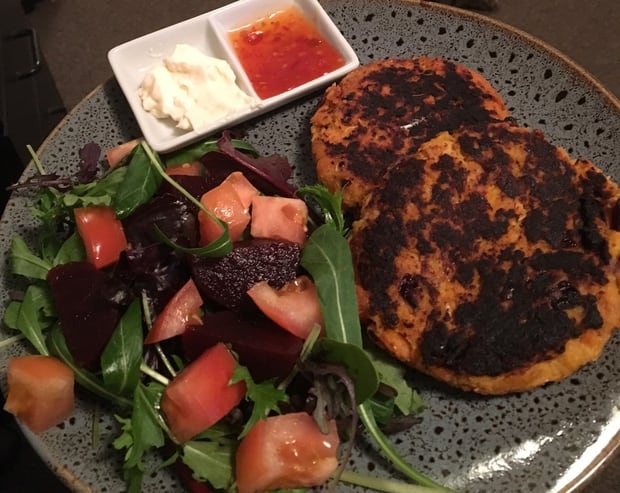 Some seriously burnt and tasteless chickpea fritters.
After two pretty dull meals I was really excited by the sound of Kourtney's dinner option.
Spoiler alert: I burnt my fritters. Badly.
And I cheated and made a side salad with sweet chilli sauce and aioli. Looking at my plate I felt rather pleased with my efforts.
Until I started eating it.
The only part that contained any flavour was the sauce, the fritters were dry and bland.
No matter how hard I tried to smother sauce all over them, they could not be salvaged.
SNACK: Dates stuffed with nut butter
This didn't really constitute the need for a recipe:
• Ingredients: See title 
• Method: See title
And you are done.
Some wild optional extras include a wee sprinkle of cinnamon or a few raisins on top.
FINAL VERDICT
Kourtney is certainly known for her extreme clean eating on the show, but I was still expecting a little more excitement from what ended up on my plate.
Sure, it felt healthy, but could I stick to this every day? Absolutely not.

This article was first published on nzherald.co.nz and is republished here with permission.