Gloriavale leader dies - what will happen to the community now
Publish Date

Wednesday, 16 May 2018, 9:15AM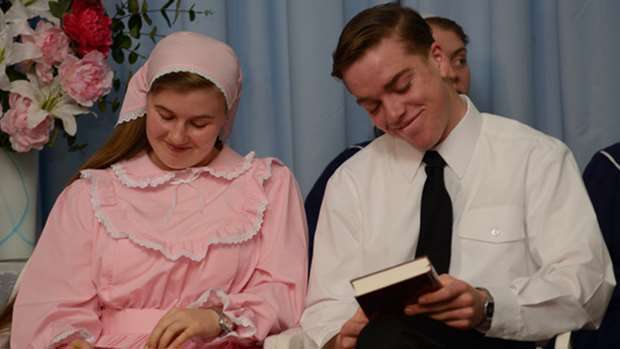 An academic is warning that the secretive Gloriavale sect could become even more reclusive following the death of its founder Hopeful Christian.
The convicted sex offender died yesterday at the secluded religious community on the South Island's West Coast after a battle with prostate cancer
A source told the Herald Christian nearly died from a heart attack after being admitted to Grey Base Hospital in February but hung on for several more months.
He leaves behind a trail of controversy and questions over the future of the sect.
Christian, who was formerly known as Neville Cooper, was in his 90s.
A relative of Christian and former Gloriavale member, who had not been in contact with the sect in over 20 years, said he had heard about the news and was yet to process it.
The Herald contacted Gloriavale Christian Community but they declined to comment.
Members of the Gloriavale Christian Community. Photo / Mark Mitchell


Christian, who founded the isolated community in 1969, was its leader for more than 40 years.
He retired from the board of trustees in 2010 but was still the "overseeing shepherd".
This gave him the power to appoint himself back onto the board and to appoint new members. The head of the Gloriavale trust is currently Fervent Stedfast. Christian served 11 months in prison in 1995 after being convicted of sexual abuse charges.
He had trained a tightly held group of elders who would continue to lead the segregated community by his rules, Massey University professor of history Peter Lineham said.
It was Lineham's belief that a group of about six elders would continue to run Gloriavale as they had been doing for the past two years.
"The impression I've had for the last couple of years is that the community was preparing for his departure and that there was a kind of strong joint eldership that was operating in the community and that things were simply referred to him as a kind of back-up as the founder of the community."
He warned that the new order could actually result in the community becoming even more exclusive.
Gloriavale residents in the TVNZ documentary. Photo / Supplied
A former member said most of the families living in Gloriavale were unaware of Christian's sex abuse conviction and believe he was jailed for preaching the gospel. Elijah Overcomer was evicted from Gloriavale after questioning leader Christian over his conviction for indecent assault on young women.
"Most people in there believe that it's because he was preaching the gospel," he told NZME in 2015. Most people would not have any idea, and if you told them why he went to jail [they'd say], 'you're a liar, you're just accusing our leader'."
Overcomer was banished from Gloriavale in 2013 after questioning Christian over his ability to lead with such a conviction on his record. The secretive religious community was founded in 1969, and now has around 550 members.
Families there live according to a strict interpretation of Christianity, working unpaid in community farming and aviation businesses. Members of the church and community wear standardised modest dress and the women wear scarves covering their hair. Christian began the Gloriavale community in Rangiora and it moved to Haupiri Valley, on the West Coast, in 1991.
The governing body of Gloriavale, The Christian Church Community Trust, was the subject of a Charities Services investigation. The probe began in April 2015 after media reports about an increase of people leaving Gloriavale and allegations of sexual and physical abuse, the Newsroom website reported.
Allegations included former female members claiming they were victims of sex crimes, claims of unfair work conditions, members isolated as punishment and senior members operating bank accounts of members without their knowledge.
Stedfast told the Herald last year that sexual assault allegations were "just nonsense".
"The stories are getting out of hand. There's no such thing at Gloriavale. It's not the case." Police this year said they regularly visit the isolated community.
"A multi-agency approach to safety within the community has been adopted at Gloriavale, and regular visits are made to the community by police, and also in a multi-agency led approach which includes Oranga Tamariki, District Health Board and the Ministry of Education," West Coast area commander Inspector Mel Aitken said.
This article originally appeared in the NZ Herald and was republished with permission.