For 3 nights only, you can book the Mystery Machine on Airbnb from the guy who played Shaggy!
Publish Date

Wednesday, 8 June 2022, 1:36PM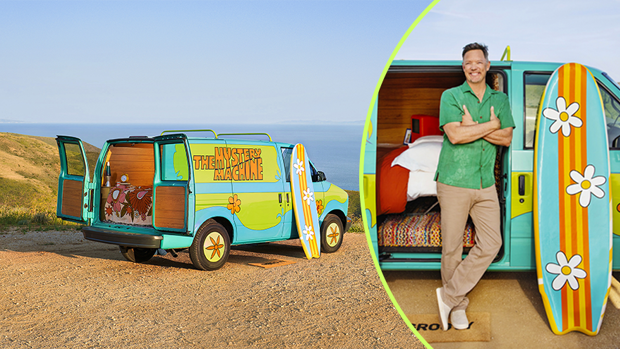 The iconic Mystery Machine has come out of retirement and YOU could stay in it!
It's been 20 years since the first live-action Scooby-Doo movie... WTF? 
To celebrate, Matthew Lillard who played Shaggy, is hosting three one-night stays in a refurbished Mystery Machine in Southern California.   
Matthew Lillard and the gang at Warner Bros have curated the ultimate Y2K nostalgia-inducing stay including: 
A virtual greeting from Lillard upon arrival – he may even share some of his favourite memories with the meddling kids 


Plenty of throwbacks to 2002, including listening to the latest Sugar Ray album on a portable CD player, basking in the glow of a lava lamp and donning Shaggy's signature puka shell necklace  


All-you-can-eat snacks and a selection to choose from for dinner, featuring all of Shaggy & Scooby's favourite foods (like hot dogs and eggplant burgers) 
Mystery games galore so guests can put their own whodunit-solving skills to the test
 
A late-night re-watch of Scooby-Doo, complete with popcorn, movie candy and all the Scooby Snacks guests' heart's desire 


An outdoor setup with enough lounge seating and hammock space for the whole gang to vibe out, free from any monsters that might be lurking about 
This all kicks off from 24th – 26th of June for only $31NZD per night!
Bookings will open for aspiring Mystery Incorporated members at 5am. NZST on June 17, click here to see the listing!
It's hard to believe time has gone THAT fast since we first watched this ICONIC film!
Set your alarms for 5am and grab a space, how could you miss it!

Take your Radio, Podcasts and Music with you