Don't Worry Darling we break everything down, from Harrys angry outburst to THAT scene
Publish Date

Thursday, 5 May 2022, 11:57AM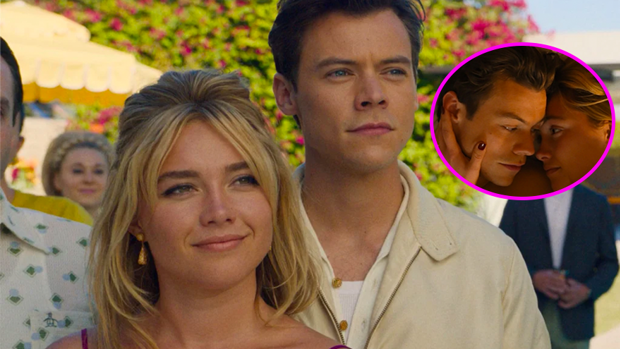 We briefly saw Harry appear in Eternals last year and although that was AMAZING we're ready to see MORE!
Thankfully the wait is nearly over to see Harry Styles on the screen! Director Olivia Wilde's film 'Don't Worry Darling' is set to premiere this September and omg the trailer is everything.
Harry play's the character Jack, as seen in the newly released (and anticipated) trailer. He's married to his Wife, Alice (played by Florence Pugh) and the two live in a utopian 1950's community.
We're definitely getting some thriller vibes from the trailer, dark secrets are hidden and we want to know why!
 There are scenes we need to break down from the trailer. Firstly, is anyone disappointed that we might not be getting an American accent from Harry?
In a recent interview with Capital Breakfast Harry mentioned his accent saying 
"I think it's a little bit all over the place because I'm from up north and then I've lived in London for 10 years and I've spent a lot of time in America and stuff. So, I think when I'm with Americans, they don't think I sound American at all.
"And then sometimes I think when I'm with English people they expect me to sound American - I don't think I do, but maybe I pick up a couple bits along the way. But I try and translate for whoever I'm with".
Did anyone else choke when they saw Harry angry?! In the trailer, he shouts at Alice when she begins to question everything at a dinner party, eventually yelling "Stop it!'
What we're still recovering from is seeing clips from intimate scenes shared between Jack and Alice.
As warned Harry did share in a recent interview, not to watch 'Don't Worry Darling' with our parents because things might get uncomfortable.
In one shot Alice is sprawled out on a kitchen bench while we see briefly see some steamy action going on...
It is ALOT but so is everything else from the film, the cast, acting, set design and storyline - WE CAN'T WAIT!

Keep ZM loud for your chance to score a double pass to Harry's Love On Tour live in Aotearoa! You can also text HARRY to 9696 to go in the draw to win. Click here for more dets!
Take your Radio, Podcasts and Music with you