Does the world's most popular fake tan live up to the hype? We find out...
Publish Date

Friday, 16 March 2018, 11:29AM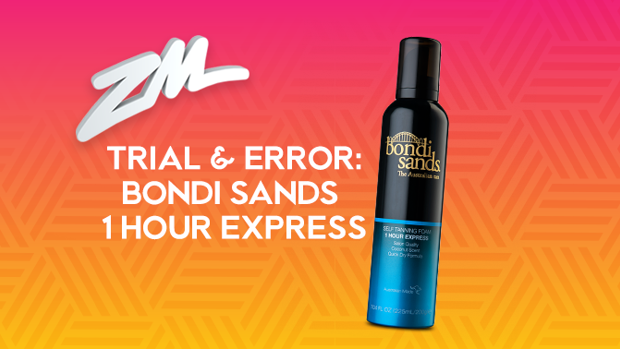 Fake tan disasters - we've all had one.
Picture this: You lather yourself in a strange-smelling formula believing it will turn you into a bronzed goddess fresh from the tropics but instead you emerge looking more like the 45th President of the United States.
That's it, there's no salvaging this bad tan. You are left desperately trying to scrub off the hot mess before you have to barricade yourself in your room for a week - or build a wall.
So when we heard Bondi Sands' new One Hour Express Tan had been labelled the "most popular tan in the world", selling more than 100,000 units in four weeks, we knew we had to give it a gruelling Trial and Error test.
The tan came with a big claim, stating that it would develop a streak-free "dark" tan in just an hour, and that it was perfectly alright to have a quick rinse in the shower and continue on with your day.
Our two brave panellists were ready to give it a go - what could possibly go wrong?

Tester one: Jo
Colour:
I won't lie, I was slightly alarmed at the colour as I began smearing on the chocolate mousse-like substance but it soon evened out to a subtle golden glow. There was no hint of orange, which is always the big fear with fake tan.
The next day, a couple of people commented on how tanned I was looking without realising it was fake, which has to be the ultimate tick of approval.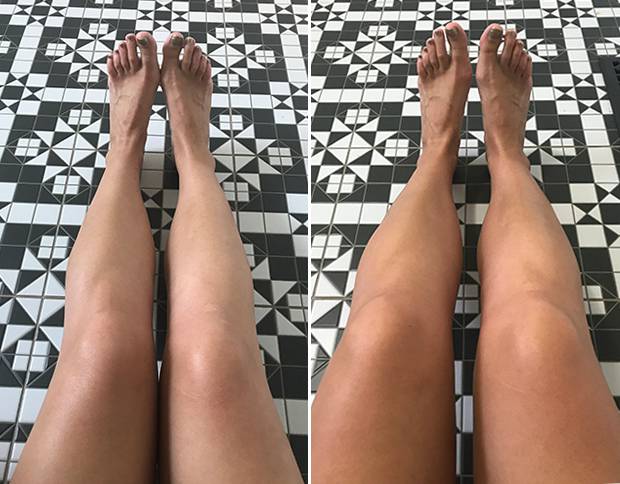 Joanna's before and after.


Feel on skin: Combined with the application mitt, which has a soft, spongy velvet texture, it felt silky smooth. Afterward, I felt a little sticky as I waited for it to dry but that didn't last long.
Smell: The coconut scent helps mask the chemical fake tan smell during application but there's no mistaking it as the tan develops. Even after you've showered, the distinct chemical smell lingers.
To be fair, I've never found a fake tan that doesn't suffer from this and it was better than most I've tried.
Development time: With the promise of a "dark" tan in one hour, I bailed at the 40-minute mark, worried I might look unnaturally tanned. It definitely added colour to my legs but in hindsight, I could have happily left it the full hour and gone a bit darker.
How does it compare to other tans you have used? Top marks. They haven't cracked the pesky fake tan smell issue but aside from that, it was a fuss-free experience.
I was left with a natural, streak-free tan that faded gradually and evenly. I'd definitely recommend buying the application mitt to ensure an even spread – and to save you from fake tan palms.
Tester two: Liana
Colour:
I'm not gonna lie, I may have freaked out as soon as I started applying the tan because it was noticeably a lot darker than my sun-tanned-yet-still-rather-pale skin tone. It did, though, make it easy to apply as I could see areas I had missed and if any areas were building up too dark.
Liana's before and after (the next morning).


Feel on skin: The reusable application mitt made applying to my skin a breeze. The mousse was light, not too sticky and easy to distribute across my body.
Smell: It claims to be coconut-scented but it still has that classic fake tan smell. I ended up having to change my sheets the next day as my bed still held that newly tanned scent.
Development time: Although it is a one-hour express tan and I was slightly worried about the colour ending up too dark, I left mine on for a few extra minutes to account for the rinse and pat dry afterward.
How does it compare to other tans you have used? It's amazing and I think it totally stands up to its claims of being one of the world's best.
After the development time, I was a great sun-kissed bronze colour and didn't have an "orange"-tinge to my body (or my sheets!) that some fake tans can leave you with.

This article was first published on NZ Herald Lifestyle and is republished here with permission.