Bel's top travel tips for your best holiday yet!
Publish Date

Monday, 25 March 2019, 9:58AM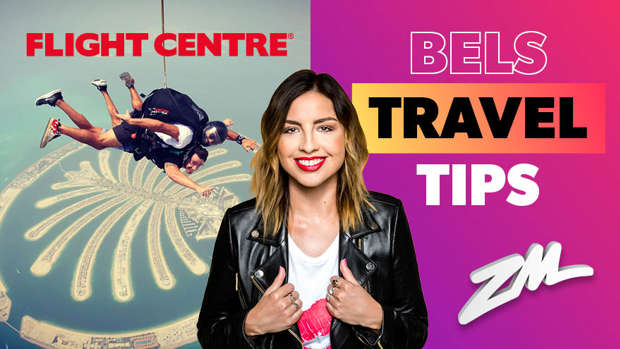 Planning on escaping the impending New Zealand Winter with a European Summer?
When it comes to travel, it's not what you know but who you know and the Flight Centre Travel Experts can ensure your next trip is custom made just for you, at a price that fits your budget!
Our resident travel lover, Bel, and our Travel Mate at Flight Centre, Logan, have put together their top five travel tips – check them out below:
For bigger trips I

 

always

 

book through a travel agent, they are experts and know the best places to go, stay and can get you the best deals on flights, transfers as well as helping you make the most of your time on your trip.
I like to fly overnight so I spend the majority of the flight sleeping so I can hit the ground running and get on with the day with where I've arrived.
Check out the best spots to visit in your destination. Instagram is the best place for this and you can find the best gram spots too.
If you're travelling on your own I recommend doing a tour. It's a cost-effective way to travel and you get to meet like-minded people. I've done one in Thailand and am about to do a sailing tour in Croatia.
Make a list of the things you want to do on your trip and prioritise them. Plan out what days you'll do what but also leave time to relax and go with the flow.
Always ask reception or one of the locals for their favourite spot to go to that's off the beaten path. Some of the coolest places I've been to have come through these conversations!
For the modern age traveller, the google maps app is extremely useful. You can download a city map (like London) while connected to WiFi. When you're out and about, you can use the app because it works off GPS - so no WiFi/data usage required!
Where possible, map out your trip beforehand and avoid having to backtrack. For example, fly into one city, out from another. This will often save you time and money.
When looking for places to eat, go a little further back from the main streets and look for places where there are more locals than tourists. If the locals are filling up a place you know it's good!
Before travelling, type the place you want to visit into Instagram - You'll see other travellers who have tagged the place and it will give you ideas of what you can do and where to go.
Find your Travel Mate at Flight Centre and travel the world with a friend who shares the same views at Flight Centre.
For more info check out here