Publish Date

Wednesday, 28 August 2019, 3:34PM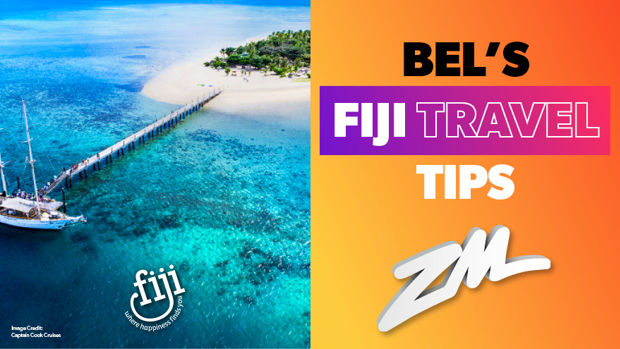 The heart of the South Pacific, Fiji is blessed with 333 beautiful tropical islands. I couldn't believe it only takes 3 hours to get there! Here is a little sample of what the ZM Fiji Squad and I got up to while we were in Fiji. Enjoy!
Despite being a bit scared of heights, there's something about zooming through a jungle-like forest in Fiji that you really push past your fear for.
Located on the Coral Coast Zip Fiji Momi is just a scenic 45-minute shuttle from Denarau. For the best day of fun making your way around 5km of zip lines through the wilderness past caves, canyons and mountain tops and lots of pretty trees. There are 16 zip lines total, and all have dreamy views. The staff are so cheeky and make the day a lot of fun.
YOGA AT BEBE SPA (OUTRIGGER FIJI BEACH RESORT)
Nothing like soaking up yin and yang goodness of a yoga session in between delicious cocktails, cos it's all about balance hey.
We were treated to a morning Yoga session at The Outrigger's Bebe Spa with spectacular panoramic views in a peaceful garden setting.
SHANGRI LA'S FIJIAN RESORT AND SPA
One of my trip highlights was staying at the Shangri La's Fijian Resort and Spa. It's located on the private Yanuca Island 45 minutes from Nadi International Airport.
There's so much space at this resort with a family's area and the newly opened adults-only area which we stayed in. Happy hour at the adults-only Reef Wing includes complimentary cocktails, beers and canapes by the pool between 5-6pm, safe to say this was a real hit with the squad.
There are 5 different bars and restaurants at the resort, but my absolute favourite was the Golden Cowrie Bar and Coastal Italian Restaurant. The lychee cocktails and the food were NEXT LEVEL, and I haven't stopped thinking about the seafood linguine since! They were the juiciest prawns you've ever seen, omg yum.
There's plenty of resort activities too, we went kayaking around the island, stumbled across an inflatable waterpark in the ocean and watched the sunset.
SIGATOKA RIVER SAFARI AND VILLAGE VISIT
This was a super special day trip! The Sigatoka River is the longest river on the island of Viti Levu, running from the hills of the Navosa Province right down to the sand dunes in Kulukulu, on the famous Coral Coast.
We took a jet boat down a pretty river setting and visited a local village. We went to the Village Tonga, which is a crop growing farm village along the Sigatoka River and experienced a day in the life learning about their culture and customs.
The village welcomed us with a kava ceremony and shared with us a traditional lunch, then we all danced together, which was a lot of fun. The kindest people and the kids were so cute. This is an excellent opportunity to share a little of what we have with the village with a gifting ceremony on departure. Hot Tip: the kids will love you if you take a rugby ball and ball pump as a gift. Sigatoka is known as 'rugby-town', and the kids all LOVE rugby.
Just be careful when 'gramming' and walking. I may have fallen into a 6-foot hole leaving the village, but that's 100% my clumsy fault.
This is a must-do day trip when you go to Fiji.
Cloud 9 is the only floating bar in Fiji, located in the Mamanuca Islands which you get to by boat from Denarau Island, the trip takes 45 minutes.
Hang out for the day in your chic swimsuit, lap up the sunshine, drink cocktails, eat pizza and swim in the bluest water you will ever see. Sounds dreamy right? It's magical and the best' gram spot'.
Your payment includes transport to and from Cloud 9 and a $60 food and beverage voucher to use while you're there.
This is another must-do. An entertaining hour sailboat ride from Denarau Island, go spend the day on a tropical island.
Tivua Island is what you'd imagine Fiji to look like. It's a picturesque paradise, and you can do as little or as much as you want to.
You can lie on the beach, under a palm tree on a hammock, go snorkelling with brightly coloured tropical fish, go paddleboarding or get a massage in the most peaceful setting.
Lunch and an open bar are included in your ticket, and the staff make the day enjoyable from the second you step on the boat.
Fiji.travel