ZM's Secret Sound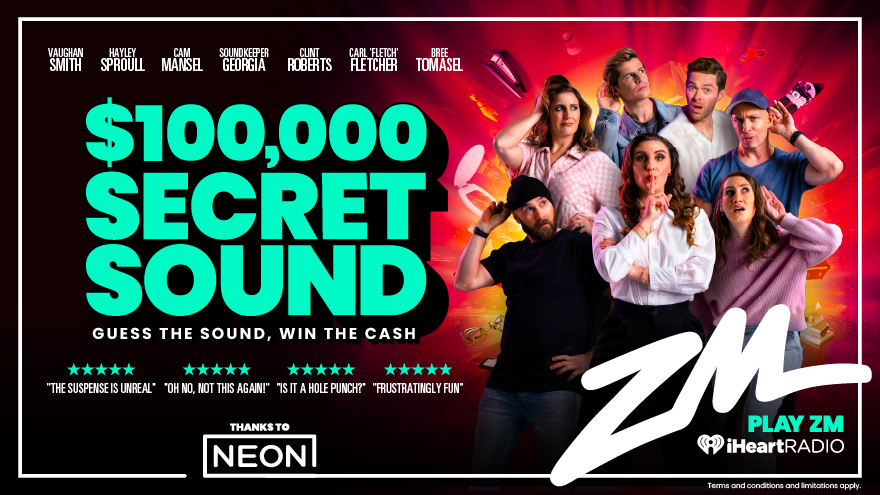 ZM's $100,000 Secret Sound is back, and this time with a brand new Soundkeeper... 
Starring Soundkeeper Georgia, guess the sound, win the cash!  
Kicking off at a massive $100,000, that's right… you could win yourself $100,000.  
Your chance to guess at 7am, 8am, 9am, 3pm, 4pm and 5pm, weekdays by calling 0800 DIALZM!  
Need some help figuring out what it is? Have a look at the clues here.
Not sure what has already been guessed? Find all of the incorrect guesses here.
Follow @zmsecretsound on Instagram and join ZM's Insider Fam Facebook group to keep up to date with all the clues, goss, and more.

Thanks to Neon.
Are you switched on to the latest TV series and movies? Because Neon has your back. 
The premium content handpicked by Kiwis for Kiwis and ready for you to binge whenever you want it (and ad free). 
Bond over thrills from 'Yellowstone', gossip about 'Industry' drama, swoon over 'Marry Me' and connect with 'Love, Lizzo'. 
Watch It. Live It. Neon 
 Sign up here for your 7 Day Free trial (T&Cs apply) neontv.co.nz