ZM's test run: We've found the best fake tan
Publish Date

Thursday, 5 July 2018, 12:08PM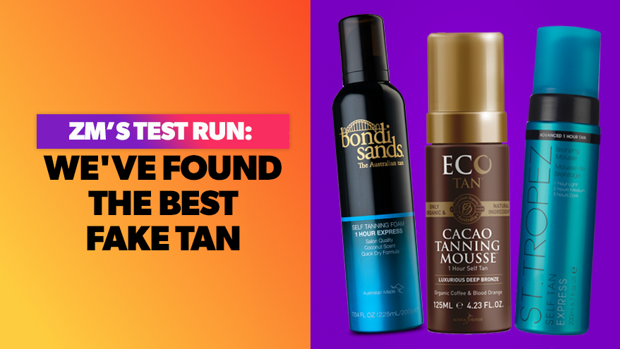 We're in the midst of winter, our skin sexy summer tans have long faded, leaving us to be pasty and feeling less fabulous. 
But before we coat ourselves in the closest fake tan at hand, we need to know what one will leave us looking like we actually just came back from a tropical holiday (as we are planning to tell everyone that compliments our bronzed beauty).
So we've recruited four of the ZM office girls who love to fake it till they make it, to find the best fake tan to slap on this winter. 
Meet our fake tan 'experts':

The tans we trialled were:

And this is what we found...
St Tropez

"For the price you pay, there's just nothing special about it..." - Trin
The good: Easy to apply and foam was moisturising. 

The bad: Lingering smell, on the pricier side, too light of a resulting colour and high price. 
The rating: 2.6/5


Bondi Sands 

"The smell was all good nothing too offensive about it." - Zoe
The good: Colour develops really quickly. The smell wasn't too bad. 
The bad: Doesn't last very long on the skin, washes off too easily. You have to work fast to apply it. 
The rating: 3.6/5


Eco Tan

"Best thing? The fact that it's all natural and it's nice to know that it's vegan and isn't tested on animals." - Dannii
The good: The smell, it smelt like coffee and mandarins. The fact that it's an all-natural product. 
The bad: The application isn't easy, as the mousse is so light it's hard to see where you've put it on your skin. The resulting tan is also very light. 
The rating: 2.6/5


Loving Tan

"I'll be changing to this brand from now on" - Anastasia
The good: Nice dark tan, very easy and smooth application. Tan lasts well and develops quickly. 
The bad: Strong smell and high in price.
The rating: 4/5
So this how they ranked:
1st: Loving Tan
2nd: Bondi Sands 1hr Express
3rd equal: Eco Tan and St Tropez
Want to buy any of the products? Loving Tan can only be bought online, St Tropez and Bondi Sands can be purchased at Farmers and Eco Tan can be purchased at pharmacies.