#ZMExplains Sun Safety with NIVEA Sun
Publish Date

Monday, 14 December 2020, 10:00AM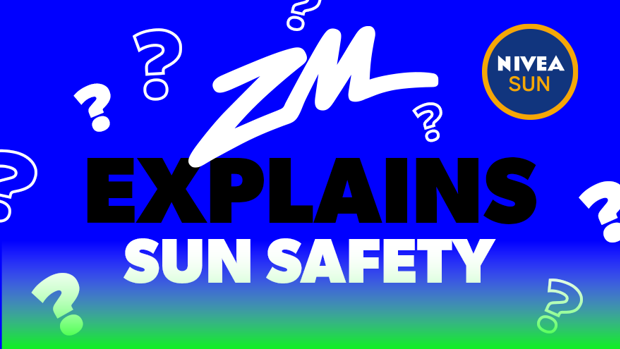 It's finally summer, and after possibly one of the longest years of our lives we are excited to get outdoors and explore our beautiful country, but with some of harshest sun in the world we want to make sure you're staying safe in the sun this summer. 
We've teamed up with NIVEA sun and Molemap melanographer Lara Wild, to answer some of your sun safety questions and explain how to stay safe out there this holiday season. We've also got your chance to win a NIVEA Sun prize pack by answering a quiz question below!  
Does sun damage to the skin go away?
Not all of it can be reversed, but some can. It is never too late to be proactive with your sun protection. 
What's
 the difference between a UVA and UVB ray?
UVA is longer wavelength radiation which is associated with ageing. UVB is shorter wavelength radiation and associated with burning. 
Both damage your skin so you should look for a broad spectrum sunscreen to reduce the impact of all radiation from the sun.  
Why is the sun so much harsher in New Zealand?
There is a hole in the ozone above NZ and this allows UV radiation to hit the skin directly with minimal filtration. It is this UV absorption that creates so much damage hence the importance of diligently applying sunscreen. 
Is it possible to get sunburnt on a cloudy day?
A cloud doesn't absorb much radiation. We get some of our worst burns on cloudy days because we don't take them seriously enough. If there is enough sunlight to be able to see, then there is enough sunlight to burn your skin  
 
How much sunscreen should I be applying and how often?
You should be applying plenty! It is advised to apply around 7 teaspoons (around a shot glass full or 35 mls) Make sure you re-apply every two hours. 
 
Is it true that sun damage is the leading cause of ageing? 
Yes it is. So if your health doesn't motivate you to look after your skin, do it for your lines and wrinkles! 
Thanks to NIVEA Sun. NIVEA Sun Protect & Moisture protects skin and the ocean (and its 100% complaint with the Hawaii Reef Bill and readily biodegradable formula)