Your next Netflix Binge according to your birth month
Publish Date

Monday, 7 October 2019, 3:06PM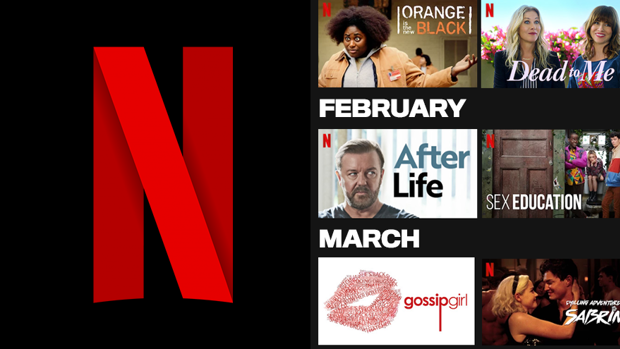 Choosing a show to dedicate your time to can be so overwhelming that you just end up watching the same thing over and over again.
That's why we're here to help you find your new favourite series, and what better way than to pick it based on your birth month! 
January: Orange Is The New Black
With Orange Is The New Black coming to a close in Season 7, now is the perfect time binge watch all the episodes from start to finish. Based on a true story of Piper Kerman, who was convicted of a decade old crime of transporting drug money to an ex-girlfriend, we are introduced to a diverse group of women and discover how life-changing prison can be. 
Although a comedy, It tackles A LOT of important issues and will take you through an emotional roller-coaster doing so. 
Other Recommendations: Dead to Me, Good Girls, Santa Clarita Diet 
February: After Life 
Okay not going to lie, you might ball your eyes out a little bit, but in between laughs. 
Ricky Gervais plays Tony, a man whose entire persona goes from nice guy to severe pessimist after his wife dies. It is incredibly raw and explores the process of grief in a way that hasn't really been done before. We promise it's not too much of a downer. 
Other Recommendations: Chewing Gum, Arrested Development, Sex Education
March: Gossip Girl
There's a reason the saying 'xoxo - Gossip Girl' is so popular. Set in New York's Upper East Side, Gossip Girl follows the lives of privileged high school students, and in particular, best "frenemies", Blair Waldorf and Serena Van Der Woodsen.
Everyone who is anyone is at the mercy of the anonymous Gossip Girl, who posts online updates about the elite group. Gossip Girl seems to know what people are doing before they've even done it, and yes, the trailer is cringe - but we dare you to not enjoy this series. 
Other Recommendations: The Politician, Riverdale, Chilling Adventures of Sabrina
April: Evil Genius
Possibly one on the most intriguing criminal cases to be documented. The extraordinary story of the "pizza bomber heist" and the FBI's investigation into a bizarre collection of suspects will have you on the edge of your seat with every twist and turn. 
Other Recommendations: Making a Murderer, The Keepers, The Confession Tapes

May: Rotten
There is a whole ugly underbelly to the food industry that we had no idea about. This fascinating series explores the dirty dealings behind everything from milk and honey to avocados and chocolate. 
Other Recommendations: Explained, Our Planet, Ugly Delicious
June: The Sinner
Most of us love an Anthology series, especially when it crosses over with the crime genre. This story in particular follows a young woman who commits a brutal crime in full public view, but for seemingly no reason. The investigator on the case becomes obsessed with her motives and is determined to dig into her past to figure out why this happened.
Other Recommendations: Stranger Things, OZARK, Marvel's Jessica Jones 
July: Russian Doll
Russian Doll is a comedy drama with a twist. The story follows Nadia, the guest of honor at a trippy party one night in New York City. She dies repeatedly, always restarting at the same moment at the party, as she tries to figure out what is happening to her.
If you've already seen it, this is the perfect example of a show you'll definitely appreciate the more times you watch it.
Other Recommendations: Black Mirror, Maniac, The End of the F***ing World 
August: Derry Girls
If you loved Angus, Thongs and Perfect Snogging, Derry Girls will be just up your alley! Derry Girls follows a group of teenagers in the 1990s during the Troubles in Northern Ireland, but it's more relatable than you'd think. It is hilarious, and awkward, and heart warming. You'll finish this in a day for sure!
Other Recommendations: Atypical, Unbreakable Kimmy Schmitt, Grace and Frankie 
September: The People v. O.J. Simpson: American Crime Story
The People v. O.J. Simpson is one of those shows you wish you could erase from your brain just so you could watch it again. Whether you're familiar with the real life case or not, the re-imagining of the trial is an incredibly gripping and fascinating insight into the criminal justice system and the roll of media. 

Other Recommendations: The Assassination of Gianni Versace: American Crime Story, American Horror Story, You

October: Jane the Virgin
If you LOVE drama this is the show for you. Jane the Virgin is about a young (virgin) Latina Catholic woman who discovers that she was accidentally artificially inseminated. Her life is turned upside down as she learns that the sperm donor is actually her boss, Rafael. 
Almost a parody the Telenovela style, the show has so many twists and turns that you can't help but be hooked. 
Other Recommendations: Crazy Ex-Girlfriend, The Good Place, Brooklyn Nine -Nine

November: The Crown
We know what you're thinking,"My nan watches this", well hear us out! whether you like the royals or not, The Crown is a fascinating retelling of history. Following the political rivalries and romance of Queen Elizabeth II's reign and the events that shaped the second half of the twentieth century, it's more dramatic and intriguing with every episode.
Other Recommendations: Peaky Blinders, House of Cards, Mad Men 
December: RuPaul's Drag Race (Season 5 - Season 11)
RuPaul's Drag Race is America's Next Top Model meets Project Runway meets America's Got Talent - throw in a bunch of Drag Queens, a lot of sass and you've got arguably the best reality TV series to date - and they have the Emmys to prove it. 
Other Recommendations: Queer Eye, Glow, Special
Happy viewing everyone - Netflix and Chill responsibly.