Whittaker's 'gender reveal' chocolate causes a stir
Publish Date

Friday, 15 February 2019, 8:10AM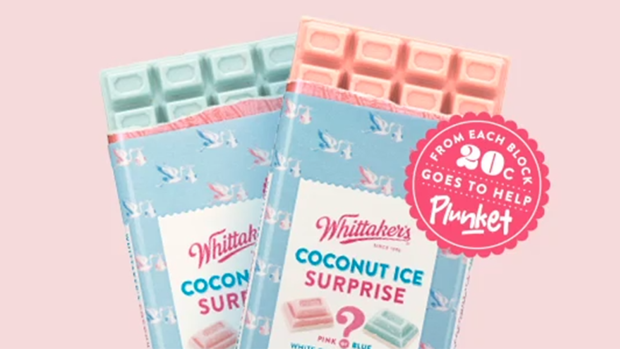 With more parents opting to throw gender reveal parties, there has been a huge spike in social media trends and videos surrounding the topic.
From balloons and cakes to a car's exhaust fumes, there's really no limit to the creativity that parents have when it comes to finding out the biological sex of their unborn baby. 
Whittaker's have picked up on this trend, introducing pink and blue Coconut Ice Surprise chocolate blocks with a video series in which expectant parents use the chocolate to reveal the gender of their baby.
Whittaker's commented that they worked closely with the families to reveal the babies genders. 
While many love the idea, there were a few who believe the ad concept is setting the world backwards in terms of gender stereotypes.  
Others were just happy to see Whittaker's supporting Plunket with 20c from each bar going towards Plunket's 'Raise a Bundle' campaign, which sees children nurtured for the first 1,000 days of their lives. 
Whittaker's Marketing Manager, Holly Whittaker stated "As a proud New Zealand company, Whittaker's are delighted to be partnering with such an iconic kiwi charity, which has supported generations of parents for over 100 years, with this special Limited Edition chocolate."
What do you think about Gender reveals? Vote in our poll below!