WATCH: Cara Delevingne and Selena Gomez share a steamy kiss in Only Murders in the Building
Publish Date

Friday, 8 July 2022, 4:23PM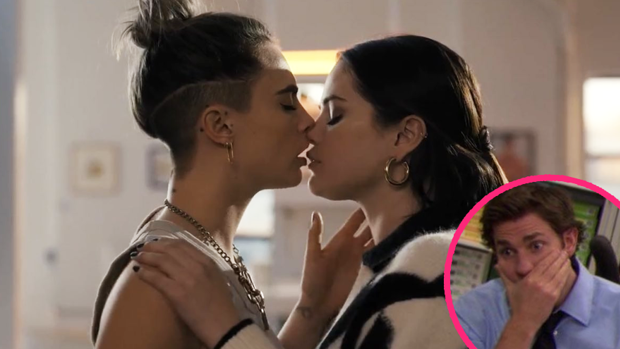 Soz not soz but *SPOILER* (we gave y'all over a week to watch it first before posting)
It didn't take long for the kissing scene between Selena Gomez and Cara Delevingne to go viral in Only Murders in the Building Season 2. 
Selena and Cara have been besties for over 10 years (they even have matching tattoos), and it was no secret that Cara was joining the cast this season after it was announced in May that she was going to play Mabel's new love interest.
Vanity Fair reported that Cara's character Alice would, "put Mabel in touch with a side of herself she's been somewhat neglecting since the show began."
She joins the iconic trio of Selena Gomez, Steve Martin and Martin Short - three true crime lovers and neighbors who attempt to solve murders that occur in their apartment complex.
The steamy kissing scene has been sending fans into a frenzy. "Selena Gomez destroying a piece of art with an axe and then kissing Cara Delevingne all whilst 'You Should See Me in a Crown' by Billie Eilish plays, is the perfect end to Pride Month that I never knew I needed" one fan tweeted.
While another tweeted, "It's insane how much electric chemistry Selena Gomez and Cara Delevingne have, like, immediately."
However, it has others divided, with one person tweeting, "Starting to think all the reviews lied about the chemistry between Selena and Cara cus those 4sec told me enough…"
But the Selenators have backed their queen in response to those saying the kiss is awkward in that Alice (Cara) is introducing Mabel (Selena) to a different part of herself as she discovers her sexuality.
And it looks like the haters could be swayed as it appears another kissing scene is in an upcoming episode!
In a recent interview with E!, Cara opened up about the kiss saying, "It was fun... Would anyone in the world not like to kiss Selena?" I mean she got us there.
Only Murders in the Building Season 2 is now streaming on Disney+.

Laugh out louder with Fletch, Vaughan and Hayley weekdays from 6am - 9am. Listen in for the biggest celebs and guaranteed lols.
Take your Radio, Podcasts and Music with you