Travis Kelce says his relationship with Taylor Swift is giving him the NFL results of his dreams
Publish Date

Thursday, 26 October 2023, 10:23AM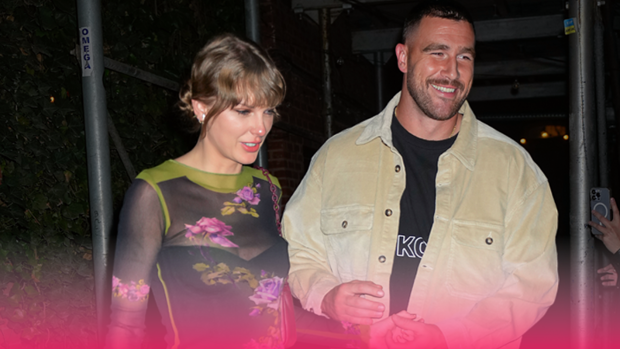 The 34-year-old Kansas City Chiefs player's relationship with the 33-year-old singer was confirmed she was spotted cheering him on at the Arrowhead Stadium on 23 September next to his mum Donna, and he has now admitted it is  "hard to wrap my head around" his average yardage when the performer is in the stands. 
He made the admission on the 'New Heights' podcast he hosts with his fellow NFL star brother Jason Kelce, 35, after his sibling told him his stats seemed to show it was "good" for his game to have the Grammy winner in the audience. 

iHeartRadio have your chance to see Taylor Swift The Eras Tour LIVE in SYDNEY! Find out how to win!
Philadelphia Eagles player Jason told his brother: "When T. Swift is at the game, you're averaging 99 yards. And when you're left with only your friends and remaining family there, you are at 46.5 yards a game." 
When Jason then asked Travis whether he was aware of what fans have dubbed the 'Taylor effect', the tight end said: "How can I not be?"  
He also joked that he does worse on the field when "left to his own devices." 
Jason added "not only is social media noticing" but Travis' coach, Andy Reid, 65, has taken note of the effect of Taylor sitting in the stands for four out of the team's last five games. 
Jason said: "(Andy) weighed in… Taylor can stay around all she wants." 
Travis said: "I love Coach Reid man. What a guy. Listen, when you're getting Big Red's approval and blessings, you know you're doing something right." 
Despite his praise for Taylor's impact on Jason's game, Jason recently admitted he fears the NFL star's safety is at risk due to his high-profile romance with the singer. 
Jason told NBC Sports: "It's certainly been weird, the level that it is now. On one hand, I'm happy for my brother that he seems to be in a relationship that he's excited about (and) that he is genuine about. 
"But there's another end of it where it's like, 'Man, this is a lot.'" 
Jason added mobs of photographers chasing his brother is part of "another level of stardom". 
The Philadelphia Eagles centre said: "There's paparazzi talking about him fuelling his car before the game today and I'm like, 'Is that really necessary information to share?' 
 "This is another level of stardom that typically football players don't deal with." 
"So, on one hand, (I'm) really, really happy for my brother and where he's at in his current situation with Taylor. But on the other hand, there's some, I think, alarms sometimes with how you know, over-in-pursuit people can be. 
First published on Bangshowbiz and reshared here with permission. 

We're sending a whole nation of ZM listeners to see The Eras Tour live in Sydney after they won tickets during our 4 week See Taylor Swift Live in Sydney competition! Oh did we mention they're A-Reserve tickets 😎
Check out the moment Michaela got a life-changing call from Bree & Clint for winning our bonus Instagram comp...
Play ZM, your home of Taylor Swift
Take your Radio, Podcasts and Music with you