Tim Tam have released FOUR delicious new flavours!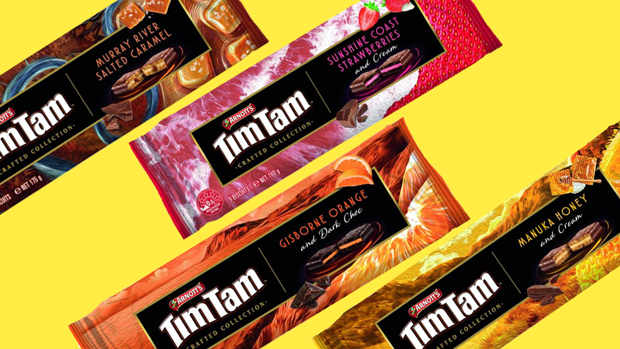 Because everyone loves a Tim Tam...
Well Tim Tam lovers, get ready because there's a whole new range coming to New Zealand.
The new flavours are super fancy, and even have a Kiwi twist!
There's Murray River Salted Caramel, Sunshine Coast Strawberries & Cream, Gisborne Orange & Dark Choc, and Manuka Honey & Cream. Yum!
Arnotts describes the flavours, and just look at how good they sound!
"Navel oranges from the coastal town of Gisborne bask in over 1,500 hours of sunshine before being picked at their sweetest and juiciest."
"The woody, rich flavour of Manuka honey is sought after the world over for its delicious, distinctive taste."
"The pristine mineral waters of the Murray Darling River Basin produce some of the best salt flakes in the world."
"The warm, sunny days of Queensland's Sunshine Coast produce vibrant bright, red strawberries bursting with sweetness."
Michelle Kitchen, Arnott's Brand Manager says: "After seeing how excited consumers have been for this new Tim Tam range across the ditch, we are thrilled to be launching the Crafted Collection into New Zealand stores this week.
"Featuring premium ingredients sourced from some of the best regions across New Zealand and Australia, we have no doubt Kiwi Tim Tam fans will love the new flavours.
"With indulgent flavours like this, what more could you wish for?"
"Gisborne Navel Oranges are one of New Zealand's best-kept secrets, basking in 1500 hours of sunshine – they are the true taste of Kiwi life," Rehette Stoltz, Mayor of Gisborne says.
"I think I can say on behalf of the entire Gisborne community, we are just so excited and honoured to have our region's produce immortalised in a Tim Tam. I can also confirm – they are delicious!"
All four new Tim Tam flavours will be available across New Zealand from this week!
Take your Radio, Podcasts and Music with you