These are some of NZ's top glamping spots for the perfect weekend away!
Publish Date

Sunday, 24 May 2020, 9:00AM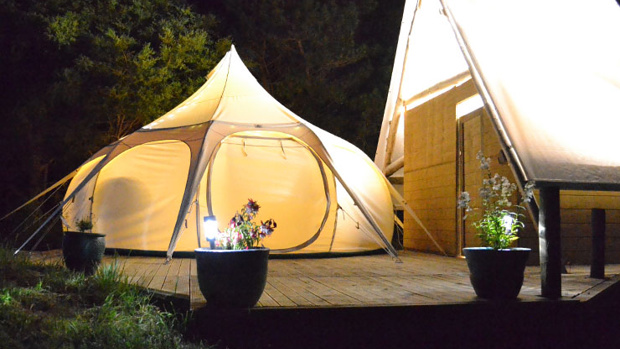 Now that New Zealand has moved into Level 2, we're all ready to get out and travel- so why not explore our beautiful backyard in the most 'gram worthy way possible?
Whether its a gals weekend or a romantic weekend with a partner, travelling NZ has never looked better!



Kahikatea Farm
$275 per night
Kahikatea Farm is a farm and bush block, just outside of Whakatane in the Bay of Plenty. Just a 3.5 hour drive from Auckland, it could be the perfect weekend away to get out of the city.
The campsite at Kahikatea Farm is set on an elevated spot amongst the pristine bush on the farm, surrounded by mature manuka trees. It consists of a lotus belle glamping tent and three small timber huts.
Book your stay and learn more, HERE.

Rocky Point
$150 per night
Just a stones throw from Nelson, Rocky Point on Pepin Island is the perfect spot for a romantic getaway. Accommodation is just a two-hour walk from Cable Bay beach, your very own isolated beach!
With your own kitchen, balcony and hot tub, what more could you want? 
Check it out HERE to see the full experience.

Valley View Glamping  
Approx $280 per night
In Mackenzie Country, you'll find one of the cutest and secluded spots for glamping- Valley View Glamping- with a village full of luxurious tents to rent. With incredible views of farm, river and mountain across the vast Waitaki Valley, you'll fall in love with the scenery and experience beautiful sunsets.
Check it out HERE to see the full, beautiful, experience.

Woodpecker Hut
$320 per night
This one maybe the most expensive, but damn it looks worth it! Ever wanted one of those hot tub pics for Instagram? Woodpecker Hut will provide you with that and more.
Located on the West Coast, near Punakaiki, the Woodpecker Hut consists of two small, off-grid timber huts, adjoined by a covered outdoor kitchen and living area. One is the master bedroom, the other a comfy lounge area!
Find out more, HERE.
So where will you be going?!