The Queens of RuPaul's Drag Race Down Under Season 2 have been Ru-Vealed!
Publish Date

Thursday, 7 July 2022, 10:51AM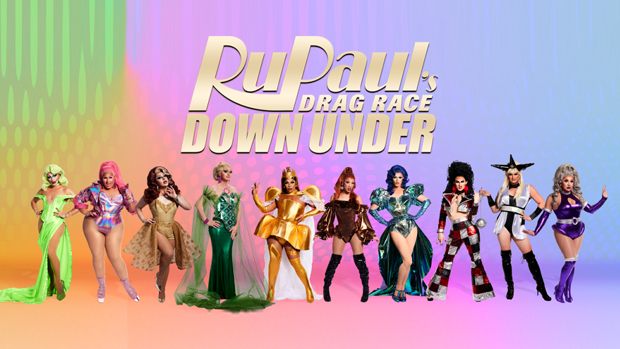 Start your engines... it's time to meet the Queens of RuPaul's Drag Race Down Under Season 2!  
10 queens from across Aotearoa and Australia with the most charisma, uniqueness, nerve, and talent have been selected to compete for the glory, title, and bragging rights of being crowned the queen of Down Under!
The eight-part series will premiere on July 30 on TVNZ+ and be hosted by RuPaul, with Drag Race veteran Michelle Visage and award-winning comedian Rhys Nicholson making a return to the main judging panel.
Selected by Mama Ru herself, the fierce and fabulous queens sashaying onto the world stage of RuPaul's Drag Race Down Under are:
First dabbling in drag in 2020 after a move to Melbourne, the Timaru-born queen has flourished since her debut. Aubrey took the opportunity to practise her make-up and develop a drag aesthetic with the encouragement of her partner during the height of the Covid-19 lockdown.

This Brisbane-based queen offers a little extra with her burlesque and sideshow style performances in which you can expect a good whipping, or even some fire breathing! Beverly has a weekly residency at one of Australia's most renowned nightclubs, an impressive feat for a new queen on the scene.

The self-confessed 'loudest queen', Faux is a regular face in the Sydney drag scene. Known for her high energy performances and big heart, she's always looking to uplift others around her. In 2020 she started her popular weekly IGTV show 'Faux Mondays', a platform where she strives to give not only other queens, but all members of the Queer and POC Queer community, a voice to share their stories in the hope of inspiring others.

As well as being an award-winning entertainer, Sydney-based Hannah co-founded 'Drag Storytime' in 2016, an initiative whereby reading to young children while in drag helps to educate them about inclusion, acceptance and love – as well as allowing them to dream big and use their imaginations.

Hailing from South Auckland, Kween is known for her powerhouse performances in Adelaide where she currently lives. As a renowned dancer and choreographer within the queer community, Kween is frequently touring internationally with the Australian Dance Theatre.             

Considered drag royalty among the Sydney circuit, Minnie has had a glittering career that spans over 20 years, having entertained audiences from Oxford Street in Sydney to Oxford Circus in London. She has won more DIVA awards (Drag Industry Variety Awards) than any other drag artist in Australia, including taking the title of 'Entertainer of the Year' four times!

Molly Poppinz originally made a name for herself in Vancouver after struggling to find the confidence to do drag in her hometown of Newcastle. During her three years in Canada, she was a full time drag performer, known for her fun and campy numbers. She's now back in Newcastle, hoping to create a safe space for the drag community.

Growing up in Sydney, Pomara Fifth always stayed true to herself and never let the bullies and naysayers keep her down for long. Thankfully her amazing mother and four sisters provided a very open home environment which nurtured her natural exuberance and love for performance.
Pomara represents both First Nation Australian and Māori queens. She has a reputation as being a versatile, multi-talented performer and host, first beginning her drag career in 2014.

Winner of TVNZ+'s House of Drag, Palmerston North-based queen Spankie has 15 years of experience in the drag scene, 12 of which were spent in Melbourne.
The official host and roving reporter of The Wellington International Pride Parade, Spankie brings drag to small towns across Aotearoa. With buckets of charisma, a vivacious personality and cheeky sense of humour, she's got it all covered!

Starting out at the age of 18, Yuri has worked hard to break into the Auckland drag scene. Originally known for her spooky aesthetic, she's worked hard developing her make-up and sewing skills to build up the reputation of being one of Auckland's most talented drag make-up artists.

Shantay you all SLAY 👏🤩👑
Who'll snatch the crown from Kita Mean, our season one queen? Find out on July 30 with the season premiere on TVNZ+!

We have our very own podcast with Season 1 RuPaul's Drag Race Down Under Queens Kita Mean and Anita Wigl'it! Laugh out louder with their Happy Hour podcast below 👑
Take your Radio, Podcasts and Music with you