The millennial's guide to saving the environment: 5 easy first steps
Publish Date

Wednesday, 4 July 2018, 9:48AM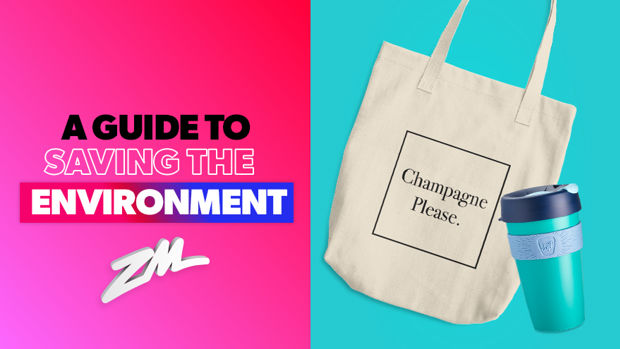 ZM girl Hayley is doing what many of us want to do, but don't know how. 
Hayley's taking small but simple steps that can drastically help the environment. 
To make it easier for those of us that want to be more environmentally conscious, she's written a simple guide:
If you're anything like me, chances are that in our current environmental crisis climate you're feeling a little confronted and probably overwhelmed about how you can do your bit.
Mainstream media (like us) have finally started reporting on the health of our planet. The issues we face around waste, polluted oceans, diminishing animal species and broken reef systems are certainly not new. But all of a sudden, everyone's talking.
Navigating this kind of movement can be overwhelming to say the least, the problems can seem insurmountable. I'm here to tell you, they're absolutely not.
In reality, the best way to help is to start. Yep, that's my answer and it's yours too.
In case you don't know about some of the small changes you can make, I've compiled a quick list below. These are things I call 'today changes'. They will ultimately make a huge difference and you'll feel better for it.
1. YOUR TOOTHBRUSH
Working life: Three months
Life in our environment: Approx 400 years
ALTERNATIVE: Buy a bamboo toothbrush, they're (for the most part) biodegradable.
You can literally chuck them in your compost bin. They're priced about $1.50 more than a basic plastic toothbrush, but have the ability to actually break down.
I RECOMMEND: https://www.grinnatural.co.nz/collections/toothbrushes/products/grin-charcoal-infused-toothbrush
2. GROCERY BAGS
Working life: 12 minutes (average)
Life in our Environment: Around a century
ALTERNATIVE: Take canvas or other reusable bags to the grocery store. These cost about 3 dollars each and if you are buying for one like me, you only need one or two.
As an added bonus they very rarely give you anxiety about your bag ripping and milk bottles exploding all over the carpark.
PRO TIP: Put them back in your car or somewhere you can't miss them after use.
I RECOMMEND: Checking out suppliers like Eco Bags. But any bags you already have, or that your supermarket is selling are far better to reuse than our known enemy the plastic bag.
3. COFFEE CUPS
Working life: Minutes
Life in Environment: Between 30-50 years
ALTERNATIVE: Kiss takeaway coffee cups goodbye for good. Invest in a good coffee mug that you can hold on to and take to your favourite takeaway coffee spot.
These are also great for getting into the habit of making your own hot drink to take with you
I RECOMMEND: My favourite supplier is Keep Cup but you can find reusable coffee mugs almost everywhere now.
FACT: Most compostable and biodegradable cups cannot be put into household compost, they also can't be recycled despite their papery appearance.
4. PLASTIC CUTLERY & STRAWS
Working life:  Minutes
Life in Environment: Up to hundreds of years
ALTERNATIVE: Next time you're at a café, eat in or make a point of asking them to hold the cutlery/straws unless they have an environmentally friendly alternative. 

5. YOUR PLASTIC BOTTLE
Working life: As little as minutes
Life in Environment: 450 years
ALTERNATIVE: Buy a decent reusable bottle. Or drink from a glass?
I RECOMMEND: Stainless steel or glass options are best. There are so many options if you give it a quick google.
These are just a couple of ideas to get you going! Easy, right? 
As soon as you start, you'll wonder why you didn't earlier.
Feel free to follow @projectgreennz on Instagram for more pockets of info and to join the conversation.
Just Start.