Student orders food so the delivery driver can get rid of a spider in her house
Publish Date

Sunday, 3 June 2018, 10:48AM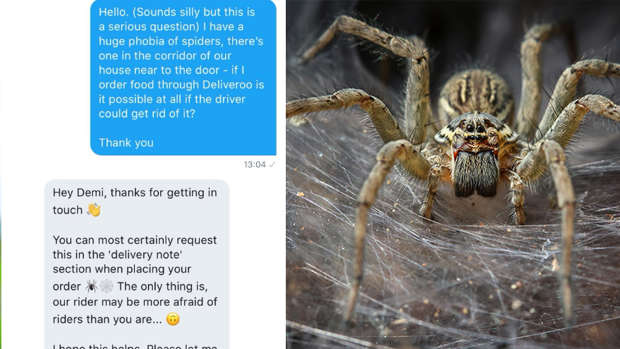 When you order food delivery it's usually to solve a problem - and that problem is laziness combined with hunger.
But an Australian student had a different problem to solve.
Her problem had eight legs, was guarding her door, and would terrify most of the population.
So in a moment of pure genius, she thought she'd message Deliveroo and ask if their delivery driver would get rid of a spider if she ordered food.
"I considered that the driver may not be able to enter the house for personal safety reasons and did not want to order food for no reason.
So, I decided to private message Deliveroo on Twitter to ask if this was a possibility."
They said that as long as the driver wasn't scared of spiders then it should be sweet.
Unfortunately, when the driver finally arrived he was also scared of spiders, but agreed to help out after she begged him to.
She added that Joe was a real-life hero.
"He asked how big it was and said he would give it a go, asking where it was.
When I pointed at the top of the stairs handing him the tissue roll and getting him a chair to stand on, he then reached for the spider and accidentally dropped it on the floor where it began to run which made me panic more, he said: 'Look away, don't look."
And Deliveroo promised to reward Joe for his hard work accordingly:
Thank god there are people like Joe in this world.