Stay The F*ck Inside is the drinking game app that raises money for COVID-19
Publish Date

Thursday, 16 April 2020, 5:30PM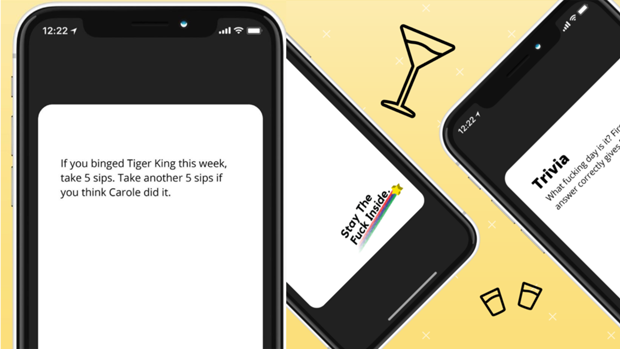 Virtual drinks are gonna be lit this week!
Stay The Fuck Inside is the latest drinking game to come out of lock down, and may just be our favourite for a very special reason.
Not only is the game super fun, you also help raise money for COVID-19, just by playing!
It also runs on a 'pay what you want system' so you can pay either $4.99USD, $7.99USD or $9.99USD for the exact same game, and 100% of the profits will got to Meals On Wheels America.
Stay The Fuck Inside is a game made of games, with 7 different game modes, there will never be a dull moment. 
From trivia questions, to 'take a sip if' questions and 'truth or dare' scenarios in the mix, you'll never have a dull video call with friends again!
It's pretty easy to play too, just take turns reading the cards. If done through video chat, one person can screenshare and everyone can take turns reading!
To buy the game, go HERE.
Take your Radio, Podcasts and Music with you