Pals Just Turned Your Fave Cocky-T's Into 3 New Flavours And We've Taste-Tested Them For You
Publish Date

Thursday, 2 November 2023, 12:28AM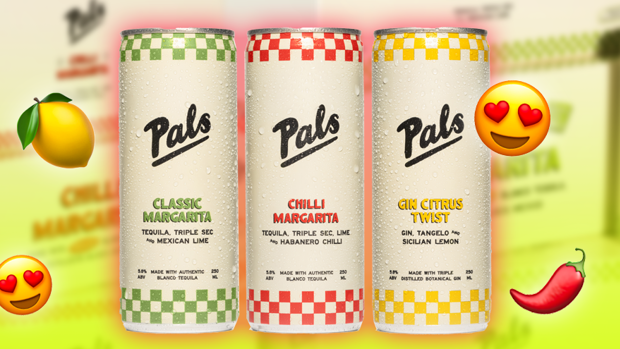 Just when you thought "The Beige One" was going to be your summer drink of choice... a new TRIO of Pals have entered the chat.
How does that saying go? Ask and you shall receive? Good things take time? Well, in this case, you get not one, not two, but THREE new flavours. Probably because you asked politely.

The weather being chilly in Spring ain't cute... but hand me a chilli marg any day and it'll warm me right up. Pals latest creations have arrived just in time and are the box you need to byo to all the pres this summer.
This new range is a break from the tradition of the usual Pals once-a-year release of specialty RTDs. Introducing Classic Margarita, Gin Citrus Twist and Aotearoa's first Chilli Margarita in a can. And we can confirm... they are a 13 (hehe Swifites) out of 10!  
And that's not the only switch-up - after joking about there being no colour options left when dropping "The Beige One", it looks like we're officially saying goodbye to the classic pastels. The Mariah Carey skinny checkboard cans have a fresh new look in 250ml.
Mahoooosive shout-out out to the Pals team for dropping us off some boxes. And just in time for Alana Springsteen's ZM Acoustic Corner. The USA-native arrived up the elevator with a pastel red Pals in hand and left with the new red Chilli Marg, "America just doesn't know how to do a seltzer. This is so f**king good!"

The Classic Margarita combines Authentic Blanco Tequila (distilled in Jalisco, Mexico), Triple Sec, Mexican limes, and sea salt to create a refreshingly light, ready-to-drink take on the popular cocktail. Even one of the office girlies [name redacted lol] who is a self-confessed "not a margy girl" was impressed. So much so, that she had to try the Chilli Margy too, "I'm questioning everything right now... this is a gamechanger."
The Chilli Margarita is a well-balanced, spicy rendition of the classic, with the inclusion of just the right amount of heat from Habanero Chillies. New girl Aaliyah felt like a bit of a rebel having a drink on day 3 of the job but when she tasted it, she knew she had taken on the right role.
If you ain't a tequila fan, the Gin Citrus Twist blending Triple Distilled Gin, Sicilian lemons and juicy tangelos is "the zest you need in your life" according to Social Queen Megan who's a diehard pastel purple fan. Sounds like that crown could have changed after the tasting...

Best enjoyed cold (obvs it's a red flag to drink them at room temp right???), all 3 flavours are finished with sparkling water to help keep you hydrated and hopefully cure that hangover. Pals lovers will be pleased to know the new range still contains all-natural flavours, is gluten-free, vegan and contains no artificial colours, sweeteners or preservatives.
Just when you thought the ZM team was committed to a taste-test, the Pals team's commitment to perfecting the flavour is world-class. With every single staff member getting to taste-test the new concoctions before they hit the shelves. 
Nick Marshall, Pals co-founder and Director says, "We genuinely go through dozens of rounds of samples when creating new flavours to land on the perfect balance of ingredients."
"We don't take any shortcuts, so the process requires a lot of patience, but the result is an authentic, high-quality range that looks and tastes great. The whole team is really proud of what we've created."
We're proud of you too, Pals.
The new range is now available nationwide at all good liquor stores. You'll also see Pals Classic Margarita and Gin Citrus Twist if you're headed to Rhythm & Vines and selected major entertainment venues across Aotearoa.
Ngl... I can't wait to pair the new cans with my Baina towel for the gram. 
Made for Pals over 18 years old, please drink responsibly xx

Get the party started with Curated by Dan Aux, sussing your weekends with a pumping ad-free upbeat dance mix gearing you up for town, or if you're down for a good boogie. Tune in Fridays & Saturdays from 10pm or check out his playlist below on iHeartRadio!
Take your Radio, Podcasts and Music with you