Meet the ladies vying for Moses Mackay's heart on The Bachelor NZ!
Publish Date

Sunday, 21 February 2021, 7:00AM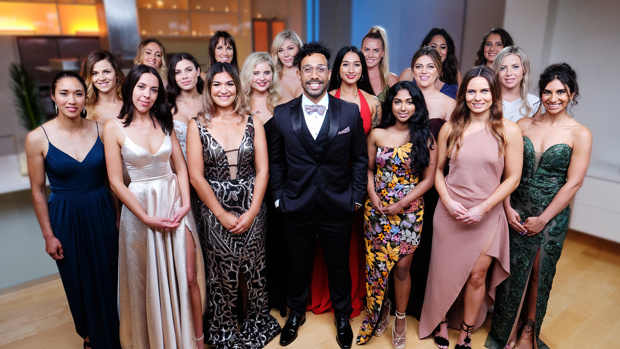 Meet the lovely bachelorettes looking for love on season 2 of The Bachelor NZ!

Shenae Connelly
Occupation: Marketing Advisor
Location: Auckland
Star Sign: Taurus
Age: 27
A long time single, Shenae is ready to step out of her comfort zone if it means finding her soulmate. Serious about finding her person, she needs a man who can be her best friend and partner. Shenae lives life to the full and hopes to find that special someone who will be up for an adventure with her. Does our bachelor tick all the boxes and have what it takes to become 'the one'?

Samantha McKenzie
Occupation: Recruitment Specialist
Location: New Plymouth
Star Sign: Pisces
Age: 29
Samantha grew up in the Mount but moved to the 'Naki for a boy, however, things didn't really run to plan – it's now just her and the cat. Her perfect man is respectful and knows just the right balance between life with the lads and life with his partner... can our bachelor prove he's got what it takes to walk that fine line between gals and pals?

Negin (Negs) Shademan
Occupation: Police Officer
Location: Auckland
Star Sign: Libra
Age: 26
After years of being unlucky in love, and as cliché as it may sound, Negin wants a man who she can settle down with and start a family. Mr Right must be open and honest and someone with whom she feels a genuine connection. Believing a relationship with great banter and humour is the magic combination for success, will Negin be guilty or not guilty of capturing our bachelor's heart?

Kayla Anderson
Occupation: Self Love Coach
Location: Waihi
Star Sign: Gemini
Age: 27
After ending a long-term relationship, self-love coach Kayla set out on a solo travel adventure with a one-way ticket to find herself again. Having spent the last three years learning to be happy in her own company, Kayla needs a man who is confident and not afraid to wear his heart on his sleeve. For her, it's all about having fun and growing in life together. Having found herself, will Kayla now also find her perfect partner?

Kimi-Rose Webster
Occupation: High School English Teacher
Location: Auckland
Star Sign: Libra
Age: 27
Kimi is the "you only live once" kind of person who thrives on new and unique experiences – so the prospect of finding love on a reality show was not something she could turn down. The plan is to find a man she can have a laugh with, and when the time comes, buy a plane ticket out of New Zealand with. Could our bachelor be the wind beneath her wings?

Luisa (Lou) Kures
Occupation: Content Creator
Location: Invercargill
Star Sign: Virgo/Libra
Age: 31
Lou is the kind of woman who radiates joy and happiness everywhere she goes. She loves to spend time with family and is in fact such a family-orientated person, she usually invites her cousins, sisters and brothers along on her dates! After losing her partner in a car accident four years ago, Lou is ready to open her heart again and hopes to find love once more with our bachelor. As a believer in love at first sight, will Lou know if he's the one when she first steps foot on the red carpet?

Chanel Lutton
Occupation: Production Finance analyst
Location: Wellington
Star Sign: Aquarius
Age: 28
Having travelled around the world for some time, Chanel realised there is no place she'd rather be than New Zealand to settle down.
The Wellingtonian hopes to meet a like minded partner, and someone that is respectful, kind and family orientated. Lucky for Chanel, Moses ticks all these boxes.With a few long-term relationships in her dating history, the last five years of her dating life has been pretty non-existent, as Chanel usually gives up on guys before they even start dating! Let's hope this isn't the case for our bachelor, Moses.

Cirrus Tan
Occupation: Personal Trainer
Location: Christchurch
Star Sign: Leo
Age: 28
National Climbing Champ Cirrus is ready to tackle her next adventure –The Bachelor!
Having been rock climbing since she was 14, Cirrus leads a fit and healthy lifestyle through exercise. The Christchurch based personal trainer is hoping to meet her match in someone caring, a team-player, someone with a passion for the outdoors and hopefully a best friend!Could Cirrus be the girl to 'rock' our bachelor's world?

Freya Puharich
Occupation: Paediatric Nurse
Location: Dargaville
Star Sign: Leo
Age: 26
Paediatric nurse Freyah spends most of her time caring for children and is looking for a partner who isn't afraid of a little hard work themselves.
After breaking off an earlier engagement, Freya has a clear idea of what she wants out of a relationship - it's all about finding a driven, compassionate and respectful man who doesn't take life too seriously.Does our bachelor have the bedside manner Freya needs from the man in her life?

Georgia Miller
Occupation: PE and Health Secondary Teacher
Location: Northland
Star Sign: Gemini
Age: 24
Georgia doesn't like to take herself too seriously, but that doesn't mean she isn't serious about finding love!
As a Gemini, Georgia needs someone who is a match for her spontaneous nature and wants to keep life fun and exciting. She describes her perfect man as family-orientated, funny, motivated and adventurous. Georgia is ready to take the plunge into this once-in-a-lifetime adventure, but is our bachelor ready to head back to a high school gym?

Kate Porter
Occupation: Nutritionist
Location: Auckland
Star Sign: Virgo
Age: 25
25-year-old Kate realised she was going through her quarter-life crisis and decided something needed to be done.
A self-confessed hopeless romantic, Kate is ready to find the man of her dreams.That man is goal driven and ambitious, someone who will appreciate her sarcasm and sense of humour. With her professional life sorted, Kate's hoping the bachelor is the one to turn hopeless into hope

Lana Jayne Ennis
Occupation: Critical care nurse/Health Coach
Location: Queenstown
Star Sign: Capricorn
Age: 29
After 15 years abroad, Lana returned home just before the first cases of Covid-19 reached our shores.
This critical care nurse has experienced true love in the past but hasn't had anything close to a relationship in two years – only because she hasn't found a man who can measure up to the level of emotional intelligence she needs.Will our bachelor be just the medicine Lana needs to commit to a forever love.

Amanda Page
Occupation: Real Estate Agent
Location: Auckland
Star Sign: Libra
Age: 33
Real estate agent Amanda is hoping to put a sold sign on our bachelor once they've met!
With a love of adventure and romance, there couldn't be a more perfect place for our blonde bombshell than The Bachelor, with all its breath-taking dates. After a serious 10-year relationship, Amanda learnt the value of sharing a strong connection with her partner and to not take life too seriously.Now back on the dating scene, she's ready to find the man of her dreams! Could it be our bachelor?

Devaney Davis
Occupation: Client Services Manager
Location: Auckland
Star Sign: Gemini
Age: 22
Devaney is a small-town girl, living the big city life, always on the lookout for new and unique experiences - being part of The Bachelor is certainly that!
To Devaney, life is amazing. She has big dreams and needs someone who can dream big with her because slowing down anytime soon is not an option.Does the bachelor have the stamina to keep up with Devaney on this wild ride through life.

Niki Osborne
Occupation: Forensic Research Scientist/ Marriage Celebrant
Location: Auckland
Star Sign: Aquarius
Age: 34
It's tools down and roses up this time around for Niki! No stranger to the reality TV scene, you might recognise Niki from the fifth season of The Block NZ!
Looking for a man who is in tune with himself, Niki wants someone who can love her for who she is despite her flaws, and most importantly, ensures she is heard.A qualified marriage celebrant, Niki knows what a fairy-tale ever after looks like – will it be her turn this time around?

Sabbey Jey
Occupation: Company Director
Location: Auckland
Star Sign: Scorpio
Age: 27
Company Director Sabby is ready to take a different approach to her dating life.
A self-confessed romantic, she is excited to get back into the dating scene after a three-year hiatus.Spending time during lockdown reflecting on life, Sabby hopes the next man in her life will share a strong connection with her and appreciate a good sense of humour. Will she be laughing all the way to the final rose ceremony?
Shivani Meera Pragji
Occupation: Solicitor
Location: Auckland
Star Sign: Gemini
Age: 26
Shivani is charismatic, not afraid to laugh at herself, and hoping to find someone who can challenge her and handle her energy! When Shivani isn't holding down her day job as a solicitor, you can find her hiking, living it up in the Coromandel or enjoying a night out dancing.
Will our bachelor have the moves to impress Shivani and pass the bar?

Steph Kennard
Occupation: Managing Director
Location: Tauranga
Star Sign: Cancer
Age: 29
Steph is a go-getter who knows what she wants! She is a hard-working and incredibly driven entrepreneur who runs her own digital marketing agency. Steph is looking for a man who is motivated, independent and will want to take care of her but will also appreciate her for the self-sufficient woman she is.
Will our bachelor be her next big investment?
The Bachelor NZ kicks off on TVNZ2 March 2.
Take your Radio, Podcasts and Music with you