Man found guilty of murdering Grace Millane has been sentenced
Publish Date

Friday, 21 February 2020, 11:35AM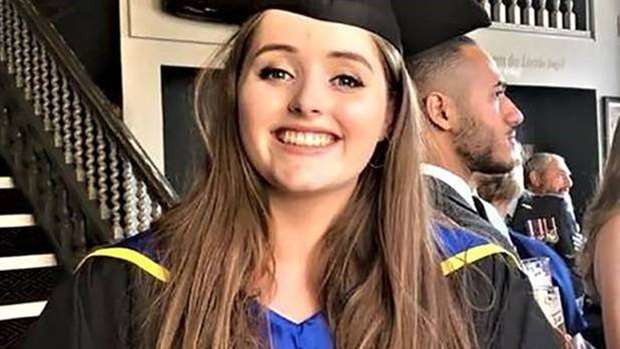 Warning: Article contains distressing content.
The man who killed Grace Millane has today been sentenced for the British backpacker's murder.
The convicted murder, 28, who still cannot be named for legal reasons, was found guilty and convicted last November for the December 2018 death.
Today he was sentenced to life imprisonment with a non-parole period of 17 years Justice Simon Moore in the High Court at Auckland.


Grace Millane was murdered in December of 2018.
Before handing down his sentence, Justice Moore said: "the real contest" at this sentencing was what minimum period of imprisonment should be ordered.
Justice Moore said Millane, who was using the dating app Tinder, was "travelling alone and not unsurprisingly wanted to meet others".
Justice Moore said only two people will ever know what really happened in the killer's apartment, and "one of them is dead".
"So what happened?"

By the jury's verdict, Justice Moore said, the claim of sex gone wrong was rejected.

Even the killer's second police interview, Justice Moore said, contained "demonstrable lies".

He continued to insist that Millane's death was "some terrible accident".

But Justice Moore said: "I accept that at some point you and Miss Millane must have discussed BDSM practices."
Justice Moore said some of the killer's lies to police were sprinkled with truth, which he must have known police would discover at some point from CCTV footage or other means.
Justice Moore said the killer will be referred to a psychologist while serving his sentence.

But, the judge said, no mental health issues had been diagnosed to date.
The killer has no previous criminal convictions, Justice Moore said.
"It is true by all definitions that almost all murders are cruel, brutal and callous in some way," Justice Moore said.
The jury by its verdict, Justice Moore added, was satisfied that the killer was at least "reckless" as to whether Millane died or not when he had his hands around her neck.
The judge said it was common ground that at some point during Millane's strangulation she would have lost consciousness, but it remains uncertain exactly when.

"We do not know if Miss Millane struggled, she most likely did," Justice Moore said.
Justice Moore said he agreed with the Crown that manual strangulation is a "particularly intimate" way to die.
Justice Moore said this is not a case where the strangulation was driven by rage or was premeditated.

But, he continued, there can be "no doubt" Millane was vulnerable.

"You were a stranger, she trusted you," the judge told the killer.
"You are a large and powerful man, she was diminutive," Justice Moore said.

"You were in a position of total physical dominance."
Justice Moore said: "I find, as a fact, that Miss Millane must have died before 1.29am on December 2, 2018."
He said this because the killer at that time began searching the internet for "Waitakere Ranges" and "hottest fire".
Justice Moore said the killer's photographs of Millane's naked body were rightly described as "depraved".

He said these were not the actions of someone panicking but rather underscored the total lack of empathy and the objectification of Millane.
Justice Moore said the killer could claim little credit for telling police where Millane's body was buried.

He said the police were already "close on your heels".
Justice Moore said the starting point for the killer's minimum period of imprisonment should be 17 years.
"I accept that you had a volatile upbringing, and that may well have influenced the person you are today," the judge told the killer.
Justice Moore said he could find "no factors" shifting the killer's culpability.
Life imprisonment means exactly what it says, Justice Moore said, life behind bars.

He said it was a common misconception that murderers will be out of prison within 10 years.
The killer has been sentenced to life imprisonment with a non-parole period of 17 years.
Prior to Justice Simon Moore's sentence and statement, Crown prosecutor Brian Dickey is now providing Justice Simon Moore with his oral submissions.
Dickey said Millane's death by strangulation was a "very personalised" way to kill a person.
Dickey said the actions of the killer after Millane's murder showed callousness, including his search for internet pornography and taking intimate photos of Millane's dead body.
He said the killer "erotised" the murder which displayed "depravity".
But the murderer's actions didn't stop there as he tried to "cover up his tracks" and lie to police.
There was a high-degree of "cruelty, depravity, and callousness", Dickey said.
The verdict of the jury, Dickey said, showed this was not "rough sex gone wrong" but a murder.
"It was a violent death for Grace Millane."
Ian Brookie, the killer's lawyer, also shared his oral submissions.

He said the Millane family's acute sense of loss is acknowledged.

But, the killer maintains his innocence, Brookie said.
Brookie said a 17-year minimum period of imprisonment is "not realistic" and suggested instead that 12 years without parole would be "appropriate".

"This is not a case involving a high degree of callousness, brutality or depravity. No more than any other murder case.
When compared with other murders, Brookie, said: "This was certainly not a brutal or callous case".
"We're more in the 12-year department," he said for the non-parole period.
He said the murderer had a real prospect of rehabilitation.

"Of course sentencing here has to be about punishment," he said, but he added "thankfully" we live in a country where we consider rehabilitation.

He urged Justice Moore not to impose sentencing that will be "crushing".
Earlier, members of Grace's family read victim impact statements in the court.


Grace Millane's parents.
Millane's mother Gillian read an emotional victim impact statement via a video link from England.
She said the killer had "taken my daughter's future" and robbed her family of so many memories.
"The terror and pain she must have experienced at your hands, as a mother I would have done anything to change places with her.
"She died terrified and alone in a room with you."
She said she has needed weekly counselling sessions since her daughter's death.
"I never look forward to family and friend's events."
She added: "Grace was never just a daughter, she was my friend, my very best friend."
The news she received when Grace was found in a shallow grave will "haunt" her for the rest of her life, Gillian said.
Gillian said photographs of Grace will be the only thing the Millanes can share with their family for the rest of their lives.
"I will miss my darling Grace until my last breath," Gillian said.

She added she simply doesn't care about the killer.
Millane's brother Declan and her sister-in-law Victoria also read statements.
Declan Millane said his sister was a "beautiful soul" who had been planning her world travels since she was 11 years old.
"Our family was ripped apart ... The following weeks were the hardest."

He said the weeks after his sister's murder "were the hardest" as he wondered what had happened to Grace and how she had died.

"There was nothing I could do to help and protect my sister, I was helpless, I was lost."
"This person did not just take Grace's life, he took away a piece of my life as well.

"I have not felt whole since my sister's death," Declan said in tears.
"It's tough to carry on life as normal with the destruction of my family," Declan said.

"There is no reason behind this unspeakable act."
"Grace brought a shining light into every life she met," Declan said.

He said he would love her forever.
After the killer was found guilty, David Millane spoke about how his only daughter's "barbaric" murder ripped his family's lives apart.
"This will be with us for the rest of our lives," he said. "Grace was a beautiful, talented, loving daughter. Grace was our sunshine and she will be missed forever."
Millane's parents sat through every day of the nearly three-week-long trial but were not at today's hearing in person.
They tearfully told journalists after the guilty verdict they would return to England and "try to pick up the pieces of our lives".
Members of the Auckland police team which worked on the investigation are expected to be at the proceeding today, specifically, the three officers who spent the most time with Millane's family; Detective Inspector Scott Beard, Detective Sergeant Greg Brand and Detective Toni Jordan.
Meanwhile, a woman who dated the killer before he murdered Millane said she was glad she spoke to police about the "coward".
"I think justice has been served - we got a guilty verdict.
"We have waited a long time for this," she said of the sentencing.
But there was no sympathy for the killer's likely lengthy prison time.
He was a "coward for taking another girl's life", she explained.
Millane, who was travelling the world, met her killer on the dating app Tinder before they shared some drinks at a few bars on the eve of her 22nd birthday in December 2018.
CCTV showed the pair appeared to be enjoying each other's company as they returned to his small downtown Auckland apartment.
The university graduate would never leave the room alive - her body later found dumped in shallow grave in the Waitākere Ranges.
"I am relieved I could stand up for myself, it could've been me. We did our part by going to the police and we were listened to," the women, who came forward to police after the killer's arrest, said.
"We have processed our hurt and anger but nothing we say will bring Grace back ... I feel for Grace's family they still have a lot of grief to process."
After hearing from nearly 40 witnesses during the highly-charged and emotional trial, the jury's decision was unanimous.
Some jurors broke down and sobbed as they left the courtroom after delivering their guilty verdict.
They heard how the killer strangled Millane to death in his CityLife hotel room and then took "trophy" photos of her body.
He "eroticised the death of British backpacker Grace Millane" because of his "morbid sexual interest", Auckland's Crown Solicitor Brian Dickey told them.
Police used some of the six terabytes of CCTV footage they collected to track the killer's movements across Auckland before and after he killed Millane.
His internet search history, expert witness, and those who knew the murderer's inclination to dominate women was also canvassed.
The killer's defence, led by barrister Ian Brookie, used expert evidence and those who knew Millane to argue it was an accidental death during erotic asphyxiation.
Brookie said his client had "freaked out" before later lying to police and trying to cover up the homicide.
The killer who can still not be named for legal reasons now faces life imprisonment with a non-parole period of 17 years jail.
This article was first published on NZ Herald and is republished here with permission.
Take your Radio, Podcasts and Music with you