Publish Date

Friday, 14 September 2018, 11:12AM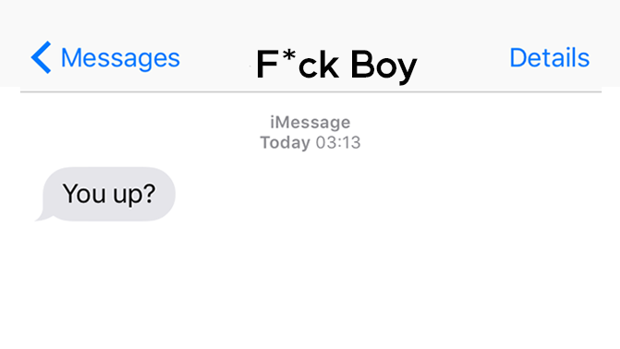 Ever dated a guy who was all over you one minute and then completely ghosting you the next? 
Well, we've all been there… and it sucks.
This week on Producer Caitlin's Girls On Top podcast with Brodie Kane and Gracie Taylor the girls discussed a very common problem faced by millennials these days... how to spot a 'f*ck boy'.
A 'f*ck boy' – according to Urban Dictionary is an "asshole boy who is into strictly sexual relationships; he will lead a girl on and let her down, then apologise only to ask for "pics" once the girl has welcomed him back into her trust."
RELATED: Dealing with a f**k boy? Our girl Bel has the best advice for you
In the interests of broadcasting standards the girls use the word 'puck boys' instead of f*ck boys.
"My whole life has been full of puck boys!" declares Brodie Kane.
"Look, here's the thing about puck boys, there's something about puck boys that draws you to them.
"Basically a puck boy is going to slide into your DMs, 100 per cent. They will message you late at night and say 'Up 2?' then you won't hear from them for days."
"There's really undercover puck boys as well," says Caitlin, "like there are some that are really nice and super interested and then all of a sudden they just boost (off)."
"I think we all want a nice guy that treats us with respect and I think that is fair but this is one way that you can deal with puck boys, is just to become a puck girl," says Brodie.
"Play them a little bit at their game, I adopt a zero f's puck girl mentality," says Brodie.
Reality TV and pop culture could be to blame for the rise of the 'f*ck boy' attitude.
"Half the problem with the rise and resurgence with puck boys is the programs like Geordie Shore which have become so common," says Brodie.
"They sensationalise getting with lots of people and glamorise it!" adds Gracie.
The girls' final thoughts on how to identify a f*ck boy:
"I think if you have a gut feeling about him you need to listen to that," says Caitlin.
"Also if your friends don't like him and if he doesn't text back between the prime dating hours of 7-11pm, he is probably on a date with someone else," says Gracie.
Listen to the full chat below! Producer Caitlin, Brodie and Gracie also discuss two more topics including having babies by yourself and suffering social media anxiety.