Here's what's coming to Neon for the month of December!
Publish Date

Wednesday, 1 December 2021, 3:28PM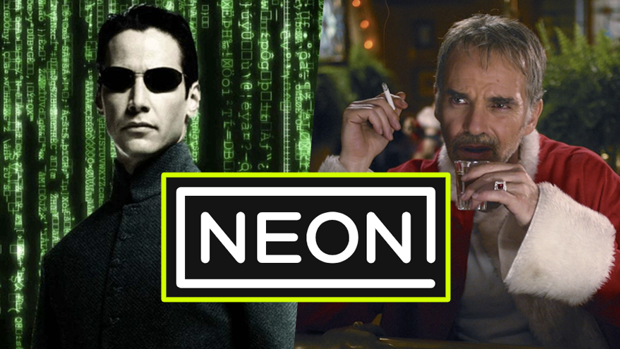 Shock, its December!
So whether you're wondering where the year went, or counting down to Christmas, Neon has you covered for the silly season. 
They have some awesome new shows and flicks coming, including The Matrix, A Quiet Place Part II, Bad Santa, Godzilla Vs. Kong and more!
Check out the list below to see when your faves are hitting the screens. 
December 1
Tin Star: Liverpool
We Bare Bears S2 
Barbie and the Diamond Castle
Barbie and the Magic of Pegasus
Barbie and the Secret Door
Barbie and the Three Musketeers
Barbie as Rapunzel
Barbie as The Princess and the Pauper
Barbie Fairytopia: Magic of the Rainbow
Barbie Fairytopia: Mermadia
Barbie in A Christmas Carol
Barbie in The Nutcracker
Barbie of Swan Lake
Barbie Presents: Thumbelina
Barbie: A Fashion Fairytale
Barbie: The Pearl Princess
All I Want For Christmas
A Bramble House Christmas
The Case For Christmas
Christmas at the Movies
Christmas Bounty
Christmas Cupcakes
Christmas in Palm Springs
Christmas Lodge
Christmas Miracle
A Christmas Tail
Coming Home For Christmas
A Husband for Christmas
A Glenbroke Christmas
Loving Christmas
One Snowy Christmas
The Santa Squad
A Christmas Melody
Bad Santa
8-Bit Christmas
December 2
Law & Order: Organized Crime
Top Wing S2B
The Wiggles: Big Ballet Day
The Wiggles: Dance, Dance
Unpregnant
Mapplethorpe
December 3
The Loud House S4
Superintelligence
Monos
Once Were Brothers: Robbie Robertson and The Band
Two of Us
December 4
Unbreakable S2
Penl5 S2B
Seberg
December 5
Archenemy
The Matrix Reloaded
The Matrix Revolutions
The Matrix
December 6
Dan Brown's The Lost Symbol
The Trip to Greece
Angel of Mine
December 7
Angelina Ballerina S6
Dinosaur Train S4
Octonauts S3
Octonauts S4
Charm City Kings
Deerskin
December 8
Louis Theroux's Altered States: Take My Baby
Louis Theroux's Altered States: Love Without Limits
Louis Theroux's Altered States: Choosing Death
Hope Gap
December 9
First Dates S1
First Dates S2
First Dates S3
First Dates S4
First Dates S5
All My Life
December 10
And Just Like That...
The Nest
December 11
Crisis
December 12
Nobody
December 13
NCIS: New Orleans S6
NCIS: New Orleans S7
Land
December 14
Tyler Perry's Young Dylan
Rusty Rivets S3
Let Them All Talk
December 15
Monster Beach
The Sex Lives of College Girls
Embattled
December 16
Avatar: The Last Airbender S1
Avatar: The Last Airbender S2
Avatar: The Last Airbender S3
Words on Bathroom Walls
December 17
Teen Mom Australia S2
The Substitute
Station Eleven
Military Wives
December 18
Young Rock: A Christmas Peril
Happiest Season
December 19
The Last Duel
Chaos Walking
December 20
This Way Up S1
This Way Up S2
A Quiet Place Part II
December 21
The Wiggles: Furry Tales
The Wiggles: Nursery Rhymes S1
The Wiggles: Nursery Rhymes S2
The Wiggles: Rock & Roll Preschool
The Wiggles: Wiggle Pop
The Wiggles: Wiggle Time
2 Hearts
December 22
Half Brothers
December 23
Penguin Bloom
December 24
Geordie OGs S3
Geordie Shore: Their Story
Music
December 25
Fatman
December 26
All That Glitters
Peter Rabbit 2: The Runaway
December 27
Wolfe
Godzilla Vs. Kong
December 28
Truck Files: A New Zealand Story
Demolition NZ S1
Demolition NZ S2
Spirit Untamed
December 29
The Courier
December 30
The Goldbergs S8
Fatale
December 31
Phoebe Robinson: Sorry, Harriet Tubman
Chelsea Handler: Evolution
Mo Willems: Don't Let The Pigeon Do Storytime!
Ricky Velez: Here's Everything
Colin Quinn & Friends: A Parking Lot Comedy Show
Drew Michael: Red Blue Green

Want more? Here's a bit we love from Bree & Clint – unleashed every weekday arvo from 3PM. They're always up to something! 
Take your Radio, Podcasts and Music with you