Here is everything new on Netflix this month!
Publish Date

Tuesday, 1 March 2022, 11:59AM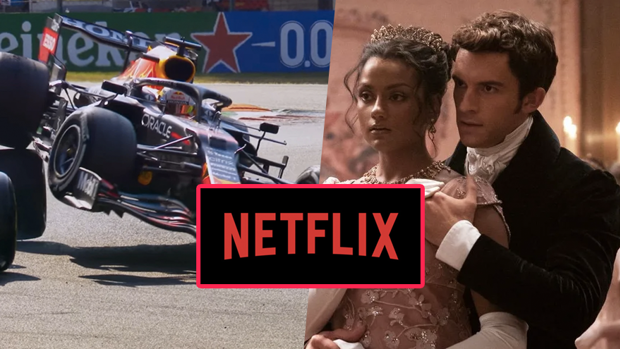 Yeah, it's March - can you believe that? 
New months aren't all doom and gloom though because we get a whole lot more to watch on streaming sites like Netflix! 
They really haven't disappointed with their March viewings too. Strap yourself in for some Bridgerton, Drive to Survive: Season 4, Bridgerton oh, and did we say BRIDGERTON?!
Check out what's coming below!
March 1
The Guardians of Justice
Worst Roommate Ever
March 2
Savage Rhythm
Against The Ice
The Pirates: The Last Royal Treasure

March 3
Midnight at the Pera Palace
The Parisian Agency: Exclusive Properties: Season 2
The Weekend Away
Whindersson Nunes: My Own Show!
Surviving Paradise: A Family Tale
He-Man and the Masters of the Universe: Season 2

March 4
Pieces of Her
Making Fun
The Invisible Thread
Meskina
March 8
An Astrological Guide for Broken Hearts: Season 2
Last One Standing
Autumn Girl
Taylor Tomlinson: Look At You
Chip and Potato: Season 3

March 9
Byron Baes
The Last Kingdom: Season 5
Queer Eye Germany
The Bombardment
The Andy Warhol Diaries
March 10
Love, Life & Everything in Between
Karma's World: Season 2
Kotaro Lives Alone

March 11
Formula 1: Drive to Survive: Season 4
Life After Death with Tyler Henry
Once Upon a Time... Happily Never After
The Adam Project

March 15
Marilyn's Eyes
Catherine Cohen: The Twist…? She's Gorgeous
Team Zenko Go
Adam by Eve: A live in Animation
March 16
Bad Vegan: Fame. Fraud. Fugitives
Hei$t: The Great Robbery of Brazil's Central Bank
March 17
Soil
Rescued by Ruby
March 18
Eternally Confused and Eager for Love
Alessandro Cattelan: One Simple Question
Human Resources
Standing Up
Top Boy: Season 2
Light the Night: Part 3
Cracow Monsters
Young, Famous & African
Is It Cake?
Black Crab
Windfall
Without Saying Goodbye
Animal: Season 2

March 21
In Good Hands
March 22
Jeff Foxworthy: The Good Old Days
The Principles of Pleasure
March 23
Redfern Now: Promise Me
Redfern Now: Season 1
Redfern Now: Season 2
March 24
Love Like the Falling Petals
March 25
Bridgerton: Season 2
Transformers: BotBots

March 28
Thermae Romae Novae

March 29
Mike Epps: Indiana Mike
Mighty Express: Season 6

March 30
All Hail
Trust No One: The Hunt for the Crypto King

March 31
Super PupZ



Want more? Here's a bit we love from Bree & Clint – unleashed every weekday arvo from 3PM. They're always up to something! 
Take your Radio, Podcasts and Music with you