Hellers have created Rashuns AND Burger Rings flavoured sausages just in time for summer
Publish Date

Tuesday, 14 November 2023, 11:50AM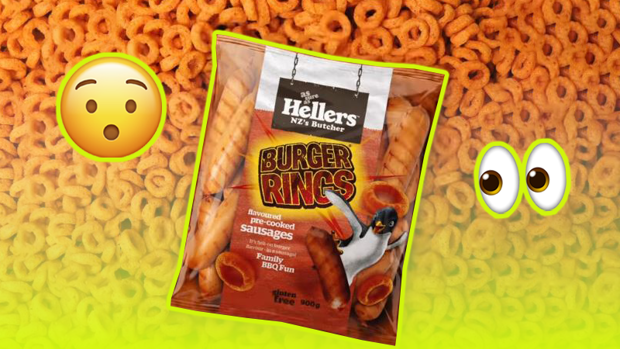 Turn me over, I'm done. Vegans & Vegetarian besties look away now.
What is more quintessentially Kiwi than snags on the barbie on a summer's day? Do you ever feel like your sausage is somewhat lacking? Perhaps it needs more meat.
Hellers and Bluebird have teamed up to combine the classic Kiwi sausage with two iconic chippy flavours: Rashuns and Burger Rings.
Brydon Heller, marketing manager for Hellers, said they had come up with the idea after looking at some other Kiwi collabs and thought the flavours could work.
They invited Bluebird chips to their sausage party and the end results hit stores today. The meat merger is the latest in a series of classic Kiwi flavours being mix-and-matched.
Pineapple lumps, gingernuts, lolly cake - nothing is sacred.
Heller said feedback online showed a generational divide, with the younger ones amped for Rashuns and their mums and dads keener for Burger Rings. He confirmed that the products were aimed at summer, but Hellers would consider offering them for longer if there was demand.
One Rashuns fan claimed they had settled on their favourite, without tasting the product, by using "Rashunal decision making".
This isn't the first time Hellers have switched up their flavours by collaborating with other Kiwi brands, launching burger patties earlier this year infused with Lone Star's rib sauce.
The new chippy-flavoured pre-cooked sausages are in stores now, just in time for the start of summer.
First published on NZHerald and republished here with permission.

Get the summer party started with ZM's Curated by Dan Aux iHeartRadio Playlist! Beats, drops, and head-banging hits. Tune in and ride the electronic waves to new heights!
Take your Radio, Podcasts and Music with you