From cleaning toilets to becoming an 'intern' at ZM
Publish Date

Thursday, 26 April 2018, 1:29PM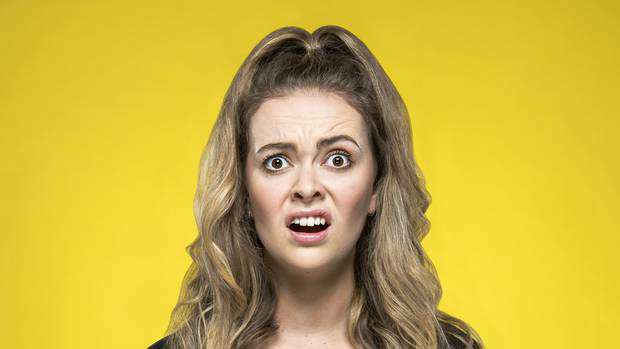 Ellie Harwood used to clean bathrooms while listening to Fletch, Vaughan and Megan's radio show.
Now she's being bullied by them - in the most hilarious way possible.
"Every night after uni I would clean toilets at a commercial business and the one thing that got me through was listening to Fletch, Vaughan and Megan," says Harwood, who stars alongside the ZM Breakfast crew in the online series Intern.
"I loved them and so much - and I still do.'
The hit WatchMe show, which follows Harwood's fictional life as a struggling ZM radio intern being bullied mercilessly by her workmates, returns for a third season this week.
In real life, Harwood works as the station's online producer and weekend DJ. She's never been an intern, and she's never been bullied at ZM, describing her workmates as "the nicest possible people".
But across Intern's first hilarious two seasons, fake Ellie's overdosed on coffee, been screamed at repeatedly by Fletch, Vaughan and Megan, found herself turned into a meme, been abused as she does her first stint on air, and was drafted into a murder plot by drive show rivals Jase and PJ.
In season three, things are about to get worse - Ellie's got competition from another Intern. It's also got a bigger budget: it opens with Harwood performing a dance routine as Fletch, Vaughan and Megan throw bottles at her.
The show works, says writer Alan Morrison, because "the role was written for Ellie and she fits it like a glove.
"It's a journey she, and I imagine many others, can really relate to. It's the universal theme of trying to be the best you possibly can, trying to prove those who doubt you wrong and chasing your dream."
But Harwood says viewers don't always realise the show is all a big joke.
"At Rhythm and Vines, people were saying, 'Oh, it's Ellie the intern.' People on the streets, even people on Facebook ... don't seem to know it's scripted and that Fletch, Vaughan and Megan aren't actually assholes," she says.
"We've got real interns. Two of them said to me the other day, 'We thought you were an intern and we were freaked out about what we were going to have to do'. That was quite funny."
Harwood admits it's a dream come true working alongside the team who used to soundtrack her toilet cleaning.
"When I turn around and think for a second, five years ago I was a huge fan, now I'm working with them," she says. "That's pretty cool."
This article originally appeared in the NZ Herald and has been republished with permission.