Former McDonald's worker reveals staff used to lie about the ice cream machine being broken
Publish Date

Thursday, 21 April 2022, 11:08AM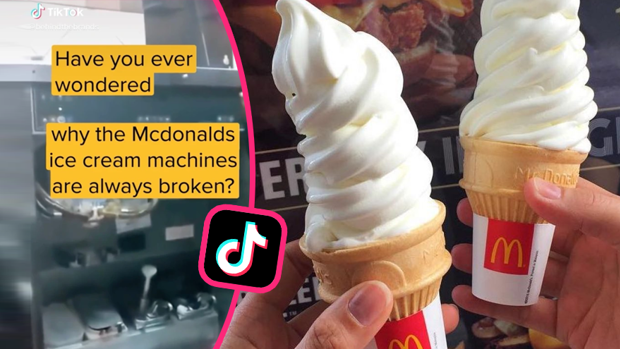 It's 2am, you're craving a soft-serve cone or a McFlurry. You pull into the Maccas drive-thru to order...
"Can I get an Oreo McFlurry, please?" You wait patiently, hoping today will be the day the ice cream machine is working. "No sorry, the ice cream machine is broken..." We've all been there.
Over the years, there have been multiple revelations about why the Maccas ice cream machine is always broken. A couple of people have even created apps that track which McDonald's locations are reporting broken ice cream machines, to save you from disappointment.
Scottish man and McDonald's employee Jay Rowley revealed in a TikTok video claiming the real reason why so many customers can't seem to get ice cream, McFlurry's and milkshakes late at night.
Taking to TikTok he said, "Usually when you go to McDonald's between the hours of 12am and 3am, you're really choking for a milkshake or ice cream and they go 'the milkshake machine isn't working'".
He explained working the graveyard shift can be stressful due to being short-staffed with a lot of tasks to do, "The shake machine was also a b**** to clean. Once that was clean you didn't want to clean it again."
Describing the moment an ice cream order would come in, Jay added: "You'll normally get that pause then 'sorry the milkshake machine is not working.' That's bulls**t, they've just cleaned it and they don't want to clean it again."
"I did it all the time. If I was on the drive-through you weren't getting a milkshake or ice cream. Do us all a favour, next time you go round to McDonald's during the night and they try and tell you that bull***t excuse it's not working. Tell them you know the real reason and to get your milkshake made."
The cleaning theory has been around for a while as it's rumored the cleaning cycle lasts four hours so it's easier to only clean it once instead of multiple times. It also often fails during the self-cleaning process, rendering the machine useless.
Another theory is that when the machine breaks, Macca's franchisees are forced to pay outrageous service and repair expenses, forcing them to go long periods of time without it.
One day we'll live in a perfect society, with teleportation machines, and a McDonald's ice cream machine that works every single time.

Harry Styles is coming to NZ and we want to get you there with a double pass - keep ZM loud across Aotearoa, iHeartRadio, and your smart speakers for chances to win! And enter now on both our Facebook and Instagram.
Take your Radio, Podcasts and Music with you