Emma Bunton's revealed the x-rated meaning of the lyric 'zig-a-zih-ah' in 'Wannabe'
Publish Date

Saturday, 25 February 2017, 3:16PM
It's the moment some of us have been waiting 20 years for... To find out exactly what the Spice Girls meant when they sang 'I really really really wanna Zig-A-Zig-Ah'.
Of course, we've all made our own assumptions about what the phrase means, but Emma Bunton has finally revealed all.
Katy Perry was a guest on the UK's Heart FM with breakfast hosts Baby Spice and Jamie Theakston this morning and took part in a game of 'Guess The Next Lyric' and when it came round to 'Wannabe', Perry became very enthused.
"What does it mean?" Perry shouted after guessing 'zig-a-zig-ah' correctly, to which Bunton replied, "It means... it's rude!... well it kind of means..."
Before Bunton could finish her sentence Perry jumped in asking: "Is it rude for us to talk over you or are you just saying?"
Baby Spice then said: "No, it can mean anything you want it to mean but we all kind of, when we..."
"You've had media training on this for a few years, 'It can mean whatever you want, it's your interpretation'", replied Perry.
To which Emma coyly stated: "It's rude."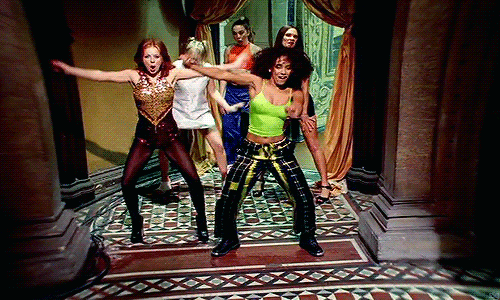 The lyric is said to have been about having an orgasm.
But a previously unnamed individual who worked on the Spice Girls' debut smash hit single claimed the line was invented by Scary Spice Mel B about a guy with a disgusting toilet habit who the five girls shared studios with when they recorded 'Wannabe' in Shoreditch, London.
The source told Daily Star Online: "Most of our studio neighbours were way cooler than us, we had Orbital and Chemical Brothers next door. But there was this one 80s pop dude who hated us for encroaching what he considered 'his turf' which was boy bands and girl bands. This guy had this nasty habit of taking a dump in the shared toilet while smoking a cigar, so we took to referring to him as 'S**t and Cigars'. During the recording this phrase was thrown around a lot and must have worked its way into Mel B's subconscious who pretty much wrote all the lyrics. She may have considered 'S*** and Cigar' for a minute - but eventually settled on 'zig-a-zig-ah' instead."