Ed Sheeran hasn't been asked to record a new version of 'End Game' with Taylor Swift yet
Publish Date

Wednesday, 23 August 2023, 11:25AM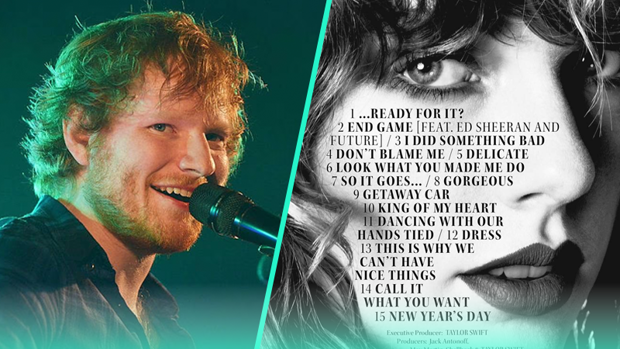 The 'Anti-Hero' hitmaker is working her way through re-recording her first six albums to reclaim ownership of them following a masters dispute with her former record label Big Machine Records and has so far released 'Fearless (Taylor's Version)', 'Red (Taylor's Version)' and 'Speak Now (Taylor's Version)', with '1989 (Taylor's Version)' set to follow in October.
With a new version of 2017's 'Reputation' expected to follow, Ed Sheeran was quizzed on whether he has been back in the studio to lay down vocals for 'End Game', the pair's collaboration with Future which featured on the record but admitted he hasn't yet.
Wanna see Taylor Swift's The Eras Tour live in Sydney? Play ZM loud for your chance to win a double pass. We're giving away tickets EVERY. SINGLE. DAY.

Asked about the subject on Andy Cohen's 'Deep + Shallow' podcast, he said: "No, I haven't. No. No.
"But '1989 (Taylor's Version)' is the next one coming out. That's the next one."
The 'Eyes Closed' hitmaker - who previously joined Taylor to re-record their duet from 'Red', 'Everything Has Changed' - admitted he'd "love" to see his friend on tour but it's proven difficult to catch either her 'Eras' show or Beyonce's 'Renaissance' concerts because they are all on the road at the same time.
He said: "I think what's nice about everyone's show is everyone's show is so individual to them.
"And everyone's got a different show, so, uh, so yeah. I mean, but we're all playing. I would love to go and see Taylor's show, but we're all playing on the same dates every single weekend. I think there's a chance next year when she's in the UK."
Taylor recently vowed to make "as many albums as humanly possible".
Sign up to ZM's Newsletter for all the latest announcements, competitions, free tickets, and any major goss straight to your mailbox! 
According to Variety, Taylor said at one of her six Los Angeles shows on 'The Eras Tour': "The reason we didn't tour for five years — that was not a normal or scheduled thing. We had a global pandemic; we had much more important things that we had to worry about.
"But I've been playing shows sort of as a coping mechanism my whole life since I was about 12 years old. I go through this process where I feel things, I write a song about that thing, I show it to you and I go, 'Do you like it? Did you ever feel this way too?'
"And so, when you guys are at a show if you even nod your head or make eye contact with me or sing the words to a song during a show, that to me validates that emotion and makes me feel like I wasn't alone in feeling it. It's sort of my coping process in life — so all of a sudden that was gone.
"And so I decided, in order to keep that connection going, if I couldn't play live shows with you, I was going to make and release as many albums as humanly possible."
No one has more Taylor Tickets than ZM
Take your Radio, Podcasts and Music with you