Ed Sheeran fan trampled in stampede to enter last night's concert
Publish Date

Monday, 26 March 2018, 11:44AM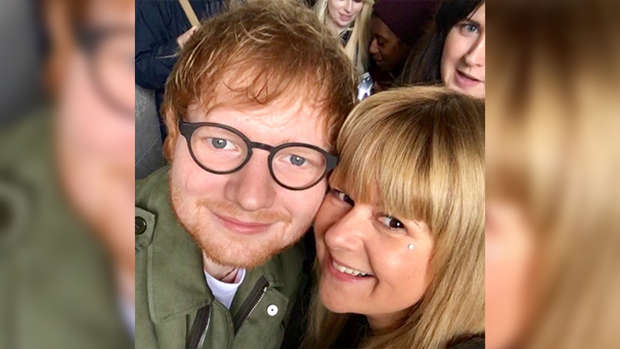 A die-hard Ed Sheeran fan who has seen him perform 40 times had "the most terrifying entrance to a gig ever" after being trampled by a stampede at last night's Auckland show.
Kelly Higginbottom, 37, flew from the UK to attend Sunday night's Ed Sheeran concert at Mt Smart Stadium in Auckland.
After lining up from 7.15am, and being second in the queue, Higginbottom was expecting a front and centre position until gates opened at 4pm and entry into the venue became a nightmare.
MORE: 
     - Did Ed Sheeran take a dig at Hayley Holt at his Auckland show last night?
"Once they took the barriers away they wound out some tape and used the tape to walk us down the stairs and to the barriers right at the front," she said.
"This flimsy piece of tape, which was held by several of the security team, did little to nothing as everyone was pushing forward and inwards and it was just absolute chaos.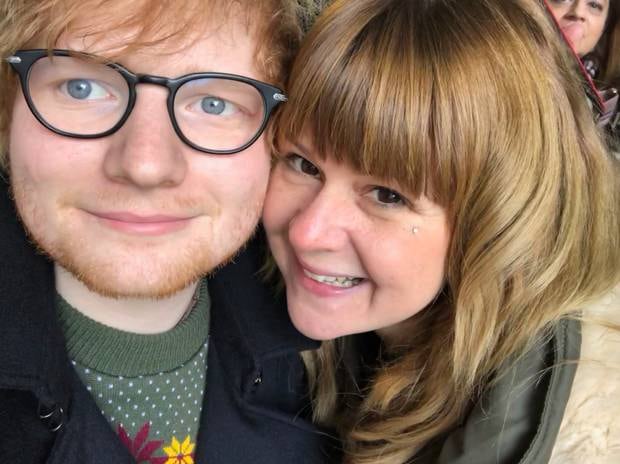 Kelly Higginbottom with Ed Sheeran in London last year. Photo/Supplied


"The next thing I know, somebody stood on the back of my shoe and I've gone smack down on to the floor without warning.
"Nobody helped me. People just walked over my legs and around me, and then eventually someone helped me to my feet."
Higginbottom said the experience was "horrible" and "really scary".
"I have seen Ed play a lot of times. This was the 41st time I have seen him play, in venues all over the world, and I have never known anything like it. I have never been so frightened.
"I had no shoes on as both of my shoes had been pulled off, and I was really disorientated to where I was in the crowd, so I just wanted to get out.
"I pushed my way to the back, found my shoes and just sat on the floor because I was really shaken and trying to pull myself together."


Higginbottom in line for the Ed Sheeran concert in Auckland on March 25, before she was trampled in a stampede. Photo / Supplied


With bruised knees and a sore wrist, Higginbottom eventually made her way back into the crowd, but said the experience ruined the concert for her.
"It put a downer on it. I love Ed every time I see him, but I didn't enjoy it like I would normally because it affected everything and I felt quite jaded and shaken up.
"It wasn't the gig I hoped it would be when I turned up at 7.15am to queue up. I thought it would be fair when I went in and I would get the spot I deserved."
She took to Twitter to voice her ordeal and to point out the "unsafe entrance policy" to stadium managers and event organisers Frontier Touring.
Mt Smart Stadium replied saying, "We're sorry to hear of your experience. Our entries are managed and filmed. We will review this footage."
 Higginbottom said she was disappointed in the reply.
"I think it is really poor just to say that they film the entrances and are going to have a look. That is not going to change anything or change what happened to me, and I am pretty sure it won't make anything happen quickly enough to help people getting into the venue tonight.
"I wanted them to say sorry, and ask whether I was okay. Obviously they haven't and it doesn't seem that they are bothered with whether I am okay or not."
Higginbottom has attended Ed Sheeran concerts in Canada, USA, France, Spain, Ireland and various countries in eastern Europe and other parts of Europe.
She said her experience at Mt Smart Stadium would make her think twice about attending another concert there.
"From my experience, other stadiums are just better organised and have better crowd control in terms of how many people they take down on to the stadium floor at any one time, so you can control those people."
She hopes organisers will take notice of her complaint so "future concerts can be a bit safer for people".
The Herald has approached Frontier Touring and Auckland Stadiums for comment.
Ed Sheeran is performing six shows in New Zealand for his ÷ World Tour. His last show in Auckland is tonight before he moves on to Dunedin.
Auckland Transport and the NZ Transport Agency (NZTA) have advised commuters to expect roads to be busy, to travel early and allow extra time.
- This article was first published on nzherald.co.nz and is republished here with permission.