Coronavirus: Cancelled or postponed concerts and events
Publish Date

Monday, 16 March 2020, 12:51PM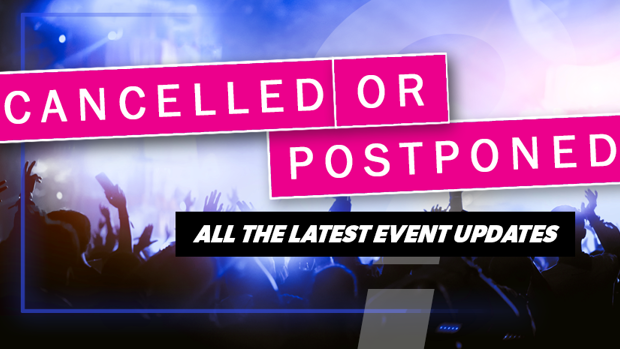 As directed by the Prime Minister, all events with over 500 people in attendance should be cancelled until further notice. 
From rugby games to concerts and more; public events nationwide have been cancelled amidst the coronavirus outbreak.
Below is a list of concerts and events that have either been cancelled or postponed. We will update these as we receive new information:
CANCELLED:
So Pop Akl and CHCH
New Zealand Festival of the Arts: The Slapstick, Strasbourg 1518

 

and

 

Dimanche.
Auckland Arts Festival: 

Circolombia – Acéléré

, 

Wolfgang's Magical Musical Circus

, 

Watt by Samuel Beckett

 and Soweto Gospel Choir.
Warbirds over Wanaka.
The East Pointers Tour - March 23rd-April 3rd.

Cricket: Black Caps Vs Australia T20 Home Series.

America's Cup World Series.

Polyfest - March 18th-21st.

All remaining Auckland Council Movies and Music in parks events.

Auckland International Cultural Festival.

Central Districts Field Days - March 19th-21st.

Weetbix TRY-athlons cancelled nationwide.

Royal Easter Show - April 9th - 13th.

All remaining shows for The Book of Mormon.

All national netball leagues, including social netball.

All New Zealand and Australian ANZAC day services in Gallipoli.

New Zealand Gold Guitar Awards

2020 International New Zealand Comedy Festival

Balu Brigada Auckland concert

Larkin Poe- AKL April 18
Summer Thieves- AKL April 11
Bhad Bhabie- AKL April 23
Brandie Carlile- AKL April 12
Y2K- April 30th
POSTPONED:
My Chemical Romance & Jimmy Eat World - March 25th.

Deftones - March 15th.

Alanis Morissette - April 21st.

Blindspott - March 20th-April 11th.

Violent Femmes - March 24th-25th.

Introducing Nashville - March 28th.

Homegrown Festival - March 21st.

Beach Hop - March 25th-29th.

Robinson and Navvy tour

Lenny Kravitz - 31 March

Super Rugby is suspended for the foreseeable future.

NRL: Vodafone Warriors will not play any games in NZ at this stage.

New Zealand Symphony Orchestra has suspended all concerts until May.
Badminton: YONEX Waikato International 2020 suspended.

Fieldays 2020.

Mary Poppins - The Musical Auckland.

The Dudes Bliss Tour April

Clairo- AKL May 20

L.A.B -Akl/Hamilton

Daffodils -April/May 

Tame Impala - NEW DATE 5TH DEC

Louis Tomlinson- rescheduled date 23 April 2021

Backstreet Boys- rescheduled to April 28th 2021
If you are affected by one of these shows, #KeepMyTicket ticket is a great way to continue to support the artists you love for when they are able to play again.
FAQ:
Can I get a refund if I purchased a ticket for a show that is now cancelled?
It's best to check with the ticket agent that you purchased your tickets from.
With the show being postponed, I am now hesitant that I won't be able to make the revised date. What do I do?
Wait for an official announcement of the confirmed new date. If you have purchased tickets and can no longer attend the new date, contact the ticket agent directly for instructions.
I purchased flights and/or accommodation for this show that is now postponed/cancelled. What options do I have?
It is best to contact the airline and accommodation provider directly to see what they can do.
I have tickets to a concert or event which I'm not sure is still going ahead. What do I do?
Stay up to date here with all of the announcements for postponed and cancelled gigs as they happen.